Infrastructure bounced back sensationally in September with six major HS2 contracts awarded on the month worth a total of £7.2 billion. However, the same can't be said for the remaining sectors in construction, including housing which saw new orders decrease for the first time in six months.
The latest edition of the Economic & Construction Market Review from industry analysts Barbour ABI, highlights the levels of construction contract values awarded in September across all regions of Great Britain. The overall contract value for September was £6.9 billion based on a three month rolling average, the highest monthly figure for almost two years. The strong total was largely based on the commissioning of the large HS2 contracts, which made up six of the top ten biggest projects in the month, whilst also masking the pitfalls across other sectors of construction.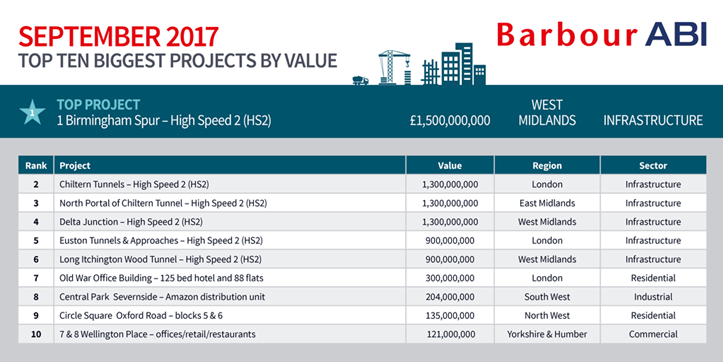 Across the industry, project numbers were down in September by 28.5% when compared to August, which was spread right across the various sectors of construction. Housing saw the biggest drop in contract values, decreasing to £1.8 billion, a 33 per cent drop on the month after consistently high growth since May and has up to now been construction's most reliable source of high contract values over the course of 2017. Outside of Infrastructure, the only two other sectors that saw growth were Hotel, Leisure and Sport with minimal growth of 0.9% compared to August, and Medical & Health which increased by 10.4%.
Outside of the six HS2 projects, the £300 million Old War Office Building residential development in Westminster was the highest value project for September. This is followed by a new Amazon distribution centre in Bristol with a construction cost of more than £200 million – four times higher than the value of any other industrial project on the month.
Regionally, the West Midlands was the leading region for construction contract value with 35 per cent of the total, followed by London and the East Midlands with 28 and 15 per cent respectively, the three regions with HS2 contracts. The remaining regions counted for 1-4 per cent individual share of the monthly total contract value.
Commenting on the figures, Michael Dall, Lead Economist at Barbour ABI, said "It was an unusual month for construction in September due to the £7.2 billion HS2 contracts, drastically boosting construction figures and depicting a strong, healthy industry, whereas without the six major contracts it was a poor month for contract values, highlighted by the housing sectors uncharacteristic decrease."
"Nevertheless the HS2 projects will be a major boost to the workforces in the three located regions, providing thousands of jobs and sub-contracting opportunities."
https://buildingspecifier.com/wp-content/uploads/2017/10/ukhighspeedrailmappng.png
438
778
Building Specifier
https://buildingspecifier.com/wp-content/uploads/2019/06/building-specifier-logo.png
Building Specifier
2017-10-19 10:40:09
2017-10-19 12:18:39
Sensational bounce back for infrastructure activity