Wind output in November broke through the 100% threshold for the first time, with 109% of total Scottish electricity demand being met from renewables, enough to power nearly 6 million homes.
Another milestone is that for 20 out of the 30 days, wind production outstripped demand.
Gina Hanrahan, Head of Policy at WWF Scotland said "Wind power breaking through the magic 100 per cent threshold is truly momentous. For months output has flirted around the 97 per cent mark, so it's fantastic to reach this milestone.
"It's also worth noting that 20 out of 30 days wind production outstripped demand.
"Most of this is onshore wind, which we know is popular, cheap and effective. But the UK Government needs to allow it to compete with other technologies, by unlocking market access for onshore wind if it's to realise its full potential."
National Grid demand for the month – 1,994,839 MWh. What % of this could have been provided by wind power – 109%
Best day – 28th November generation was 116,599MWh, 9.59m homes, 391% households. Demand that day was 60,492MWh – wind generation was 192% of that.
Worst day – 26th November 22,677 MWh, 1.86m homes, 75% of households
How many days generation was over 100% of household electricity requirement – 28
How many days generation exceeded overall electricity demand – 20
Alex Wilcox Brooke, Weather Energy Project Manager at Severn Wye Energy Agency said "Scottish wind power generation breaking the 100 per cent barrier in November is historic and serves as a timely reminder of the importance renewable energy now plays in the UK energy market."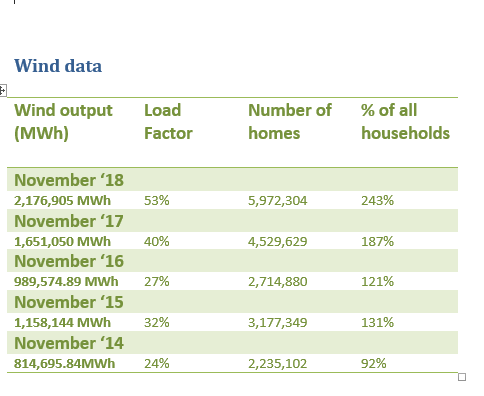 https://buildingspecifier.com/wp-content/uploads/2019/01/alternative_blade_electricity_energy_environment_farm_generate_generator-1159330.jpg
438
778
Joe Bradbury
https://buildingspecifier.com/wp-content/uploads/2019/06/building-specifier-logo.png
Joe Bradbury
2019-01-22 11:29:49
2019-01-22 11:30:00
Renewables break 100% threshold for electricity demand