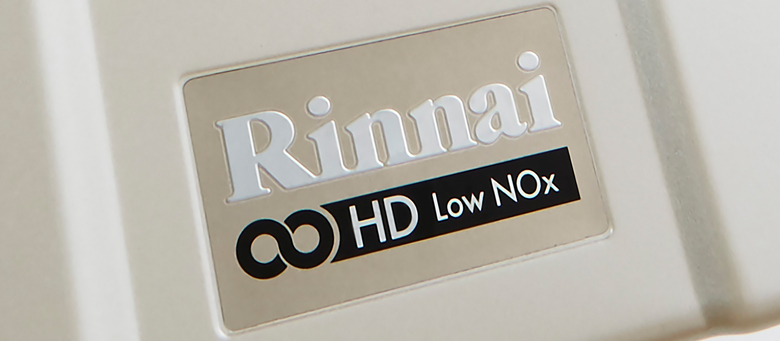 Rinnai, manufacturer of the market leading Infinity hot water heating units, has started a challenge that puts its product against tough opposition in the form of super league rugby team Widnes Vikings.
Rinnai, an official sponsor of the Widnes Vikings rugby league club, put its Infinity water heaters head to head with the players in a contest of Man v Machine. The result is a series of YouTube videos that, right from kick off, see the Rinnai brand putting in a sterling performance.
The challenge laid down to the Vikings was:
Rinnai water heaters can produce 1000+ litres from a unit weighing just 31kg. How quickly can a professional rugby player pull this weight against his peers?
Rinnai water heaters are accurate to 1°C of the chosen set point but how accurate are the Vikings?
After putting the team members through their paces in two gruelling playoffs, Gil Dudson, Vikings front row, headed the leader board for the club overall on both tasks – pulling 180 kgs in 10.93 seconds (most stored hot water systems are considerably heavier that Rinnai's sprightly 31kg) and kicking the oval ball at a Rinnai unit to test accuracy – and the Rinnai units won hands down for specifiers, installers and end users alike.
Chris Goggin, Rinnai, says: "Relentless durability is a key feature of the Rinnai range of gas fired water heaters and that is the message we are aiming to get across by pairing with Widnes Vikings for this YouTube campaign. This is a brand-heavy, mass media campaign targeted at increasing market awareness, albeit in a light-hearted manner.
"The videos have been viewed on various platforms more than 21,000 times to date and impressions from the joint campaign with Widnes Viking platforms have created more than 55,000 to our Twitter profile. We are encouraging our customers to use the Rinnai/Vikings YouTube videos in their marketing, too, to raise awareness of the Rinnai brand to their clients."
For more information on the RINNAI product range visit www.rinnaiuk.com.
https://buildingspecifier.com/wp-content/uploads/2017/05/Rin-BS-ARTICLE.jpg
341
780
Product News
https://buildingspecifier.com/wp-content/uploads/2019/06/building-specifier-logo.png
Product News
2017-05-16 16:35:14
2017-05-16 16:35:14
Rinnai takes on Man V Machine challenge