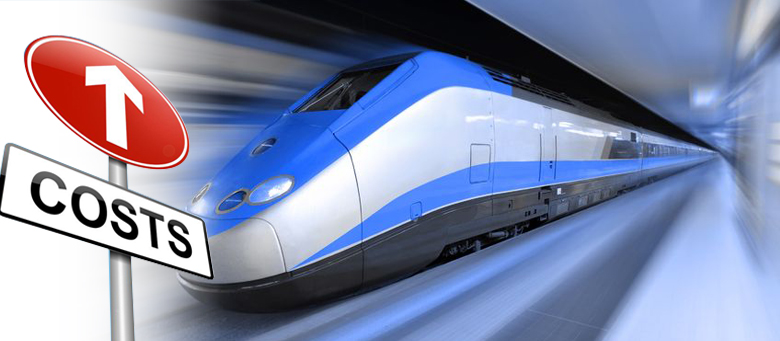 The section of HS2 that connects Birmingham with Crewe is now set to open six years ahead of the original schedule in 2027.
This announcement follows last week's Autumn Statement revealing that the overall cost of HS2 is now rising to over £55bn, £5bn more than the projection made two years ago of £50.1bn.
In the Autumn Statement the Chancellor also announced £200 million to support the operations of Transport for the North (TfN) and its delivery of Oyster-style ticketing across rail, bus, metro and trams across the region. He also confirmed at Spending Review 2015 that £13 billion would be spent on transport in the North over this Parliament. TfN and the Department for Transport have also jointly launched their Autumn Report on the Northern Transport Strategy.
Chancellor George Osborne said "bringing forward this part of the HS2 route by six years is a massive step in the right direction for the Northern Powerhouse where high speed rail will play a big role in connecting up the entire region with the rest of the country."
HS2 Ltd Chairman Sir David Higgins added "This is another significant milestone in the development of Britain's high speed rail network. By accelerating the second phase between Birmingham and Crewe, we will bring the capacity, connectivity and regeneration benefits of HS2 to the North-West and Scotland years earlier than originally planned. It has also been very gratifying, as we develop the plans for Phase Two, to see a consensus grow among the city regions in the East Midlands and Yorkshire on the siting of future hub stations at Toton and Leeds city centre respectively. We all recognise the huge contribution this infrastructure investment can make in helping to rebalance our economy."
The plans, coined 'Phase 2a', is raising concerns among those who disagree with the building of a High Speed Rail in Britain. Many feel that bringing forward the completion date for just 40 miles of track will surely raise questions as to whether if HS2 is built, it would ever get further than Crewe.
Stop HS2 Campaign Manager Joe Rukin criticised the announcement, saying "the supposed 'fast-tracking' of the route to Crewe, coupled with the rising costs of HS2 and real problems with the practicality of the rest of the proposed route, will surely lead many to conclude HS2 would never get further than Crewe. Far from showing a commitment to the North of England, going ahead with this proposal punts the links to Manchester, Yorkshire and the East Midlands firmly into the long grass, and if being a rail hub equaled economic prosperity, Crewe would already be the most prosperous town the the country."
"HS2 is abysmal value for money, and the increasingly dogmatic support for this white elephant and its' spiralling costs is completely unfathomable. The costs of HS2 went up 11% in the Autumn Statement and with trains not due to run for over another decade, who knows where the cost of this vanity project will end up and what else will have to be cut to pay for it? A responsible chancellor would be asking serious questions about whether HS2 is really worth it, not chucking more money at a boondoggle which would only benefit the richest in society. This is simply rewarding chronic mismanagement, and signalling that there is no need for budgetary control when it comes to HS2."
https://buildingspecifier.com/wp-content/uploads/2015/11/HS2-BS-ARTICLE.jpg
341
780
Building Specifier
https://buildingspecifier.com/wp-content/uploads/2019/06/building-specifier-logo.png
Building Specifier
2015-11-30 12:20:12
2015-11-30 12:20:27
HS2 Midlands route to open six years early… despite soaring costs