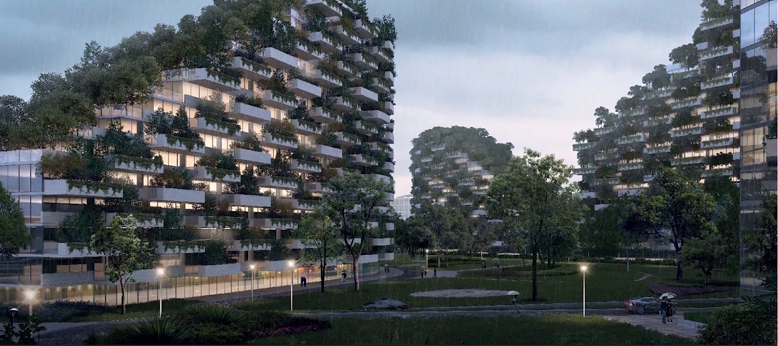 A city covered in one million plants and 40,000 trees will soon be built in China to help tackle the long-standing air pollution problem that plagues the country at present.
Designed by Italian architect Stefano Boeri (who was also behind the 'Vertical Forest' tower in Milan) the entirely fabricated metropolis will contain over 40,000 trees and one million plants.
At its heart, the scheme is intended to subvert the notion that urban areas are more prone to poor air quality, by introducing natural measures to absorb tons of CO2 and pollutants.
China has long been swamped with poor air quality. Studies show that over a million premature deaths are attributed to pollution in the country each year. Chinese power plants emit as much nitrogen oxides (NOx) as all the cars in the world combined.
In 2016, China declared red alert for air quality in the capital city of Beijing, closing schools and factories and removing 50% of cars from the road for a temporary period. This seems to have served as a wakeup call for the government, who have since introduced a series of measures aimed at curbing their alarming emissions. As well as championing renewables as a form of energy, the authorities are now looking at more innovative solutions. Could the 'forest city' be part of the solution to a worsening crisis?
The 'forest city' is planned to be built in Liuzhou, Southern China by 2020.
Here's what it will look like:
https://buildingspecifier.com/wp-content/uploads/2017/08/Forestcity.png
346
778
Building Specifier
https://buildingspecifier.com/wp-content/uploads/2019/06/building-specifier-logo.png
Building Specifier
2018-06-05 11:23:21
2018-06-07 08:21:11
'Forest City' to be built in China