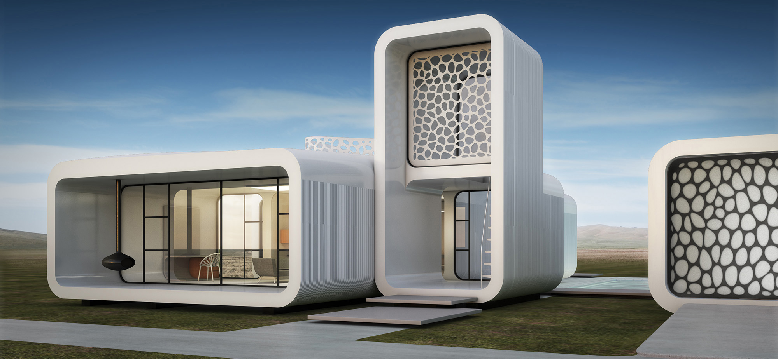 Dubai has seen the completion of the world's first 3D printed office building – called "Office for the Future."
The opening of the first 3D-printed office in the world comes just less than one month of launching Dubai 3D printing strategy, which showcases a modern model of construction.
The building was constructed using a 3D-printer with automated robotic arm – measuring 20 feet in height, 120 feet in length and 40 feet wide. The office took 17 days in total to print offsite, and the structure was erected on site in just two days. Additional mobile printers were also located at the construction site to add the finishing touches.
Saudi newspaper the Gulf Today quoted Vice President and Prime Minister and Ruler of Dubai His Highness Sheikh Mohammed bin Rashid Al Maktoum as saying, "The UAE has emerged as one of the major incubators of innovation and future technology in the world today and its focused initiatives to shape the future have become global models that can be emulated in all sectors. The opening in Dubai of the 'Office of the Future', the first 3D-printed office in the world, is another shining example of how the Emirate adopts novel initiatives and ideas and also encourages teams to adopt innovation in their work."
There can be no doubt that the competitive advantages of 3D printing, in terms of lower costs and faster delivery, will make the UAE one of the most important sustainable economic hubs, enabling the effective use of this technology to establish future cities in all sectors.
What is highly interesting in the case of the 3D printed office is that the labour cost could be cut by more than 50% compared to conventional buildings of similar size.
The Dubai Electricity and Water Authority released an Expression of Interest for the construction of 3D-printed laboratories, to conduct research on drones and 3D-printing technologies at the Mohammed bin Rashid Al Maktoum Solar Park, the largest single-site project in the world. The Solar Park would be able to generate 1,000 megawatts (MW) by 2020 and 5,000MW by 2030.
Sheikh Mohammed recently mentioned that the future is not built on possibilities and numbers but on clarity of vision, planning, action and implementation.
In the medical products sector, the focus will be on developing 3D printed teeth, bones, artificial organs and medical and surgical devices and hearing aids.
The Sharjah-based daily concluded by saying, "It is heartening that the UAE is successfully embracing technology for the service of entire humanity."
https://buildingspecifier.com/wp-content/uploads/2016/05/3D-office.png
359
778
Building Specifier
https://buildingspecifier.com/wp-content/uploads/2019/06/building-specifier-logo.png
Building Specifier
2016-05-25 08:51:33
2016-05-25 09:30:26
Printing: the future of construction