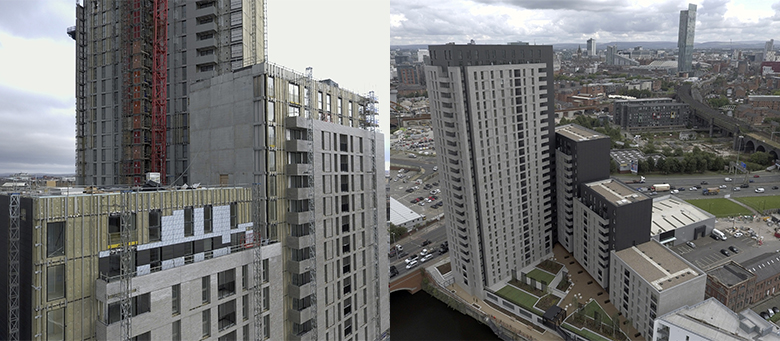 ROCKWOOL RAINSCREEN DUO SLAB® has been installed on a new high rise building in Manchester to provide a fire safety solution that also delivers reliable thermal performance and superior acoustics.
In March 2016, construction began on a new high rise development, named One Regent, on Water Street in Manchester. Made up of 307 apartments, including six townhouses and 326 sqm of commercial space, the project sits at the gateway to Manchester's city centre. The development was partially funded by the Greater Manchester Housing Fund, which aims to alleviate growing demand for residential property. Many new developments across Manchester are reaching great heights, presenting a number of different challenges for building contractors. In particular, fire spread.
This project required an insulation solution that would provide optimal fire safety, a thermal performance U-value of 0.18 W/m²K, and acoustic protection. Due to this, developer and main contractor, Renaker Build Ltd chose 21,000m2 of ROCKWOOL RAINSCREEN DUO SLAB® in 125mm for the project. ROCKWOOL RAINSCREEN DUO SLAB® is a dual density insulation board that has been specifically designed for high rise buildings. It's robust and weather proof thanks to a compressed 15mm primary fleece that's placed on top of the insulation and achieves a thermal performance of 0.18 W/m²K. A European classification: A1 non-combustible product, RAINSCREEN DUO SLAB® has been designed to slow the spread of flames and provides vital fire protection, allowing all occupants to evacuate the building safely in the event of a fire.
John Messer, Project Manager at Renaker Build, comments "As well as its leading thermal efficiency and fire resistance, one of the main qualities that stands out when using ROCKWOOL RAINSCREEN DUO SLAB® is the fewer fixings that are required to install the product. This helped us keep costs down during installation, in terms of product and manual labour."
Renaker Build also liked the fact that ROCKWOOL RAINSCREEN DUO SLAB® offered better acoustic protection than other façade insulants on the market. With development in Manchester on the rise, acoustics has become an important issue for building contractors to overcome. ROCKWOOL RAINSCREEN DUO SLAB® significantly improves the acoustic performance of the external building structure from airborne noise because of its high density and randomly assembled fibre structure.
John concludes, "The project was completed to schedule in July 2017. ROCKWOOL RAINSCREEN DUO SLAB® not only saved us time in the long run, but greatly achieved the desired thermal performance required. It also provided us with a fire resistant material that gave the building unrivalled acoustic insulation, which is becoming an ever increasing concern for our clients. The versatility of the product was ideal for the project and gave us the optimum solution to each of our requirements as well as aesthetic freedom. I'm confident to say, this won't be the last time we install ROCKWOOL RAINSCREEN DUO SLAB®."
https://buildingspecifier.com/wp-content/uploads/2017/12/Rockwool.jpeg
341
780
Product News
https://buildingspecifier.com/wp-content/uploads/2019/06/building-specifier-logo.png
Product News
2017-12-18 14:52:11
2017-12-18 14:52:11
With great height, comes great responsibility