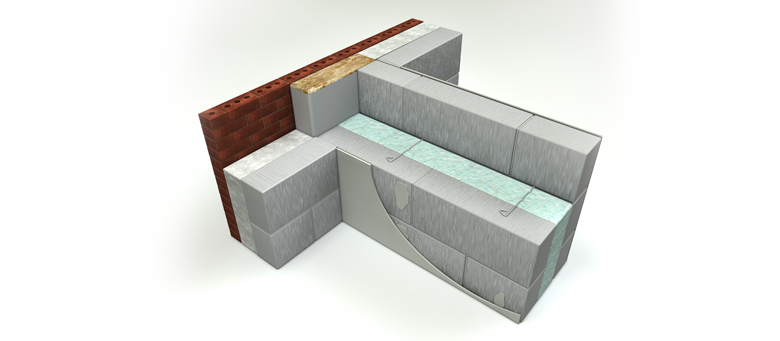 Knauf Insulation has welcomed a new Robust Detail for aircrete blocks, which has been included within the latest edition of the Robust Detail handbook, released on the 21st September.
The new detail E-WM-30, developed by Knauf Insulation in close co-operation with Robust Details, comprises two leaves of 100mm aircrete blocks, with a 100mm cavity that has been fully filled with the blown mineral wool insulation Supafil® Party Wall. It is the first Robust Detail for aircrete blocks, with a blown retrofit solution that negates the need for a wet parge coat; only a plasterboard lining is required, saving time and money on site. The detail will also achieve three points in the Health and Wellbeing section of Code for Sustainable Homes assessments.
Stephen Wise, Glass Product Manager at Knauf Insulation, said: "We are always striving to develop cost effective solutions for our customers to make their life easier, and this new Robust Detail is no different. We have developed this detail without a parge coat to deliver greater process efficiencies, and it offers high levels of acoustic and thermal performance, which can satisfy the requirements of the building regulations for a zero U-value party wall."
John Tebbit, Managing Director at Robust Detail, commented: "We very much welcome this new detail, which will provide housebuilders with even more choice when it comes to designing and building properties. Like all new details, it has undergone rigorous in-situ testing and will comply with Part E1 of the Building Regulations in England and Wales."
Aircrete is a lightweight aerated concrete material that provides good thermal performance and is primarily used for the inner skin of external walls. Cliff Fudge, Technical Committee Chairman at Aircrete Products Association (APA), said: "The new Robust Detail will provide our customers with more options for using aircrete blocks in separating party walls – delivering them the acoustic and thermal performance they need."
This detail is the latest in an on-going programme of development of Robust Details that Knauf Insulation are working on, to deliver the widest range of party wall solutions for housebuilders.
https://buildingspecifier.com/wp-content/uploads/2016/10/Knauf-BS-ARTICLE.jpg
341
780
Product News
https://buildingspecifier.com/wp-content/uploads/2019/06/building-specifier-logo.png
Product News
2016-10-26 08:31:00
2016-10-26 08:31:00
New robust detail E-WM-30 for aircrete blocks announced