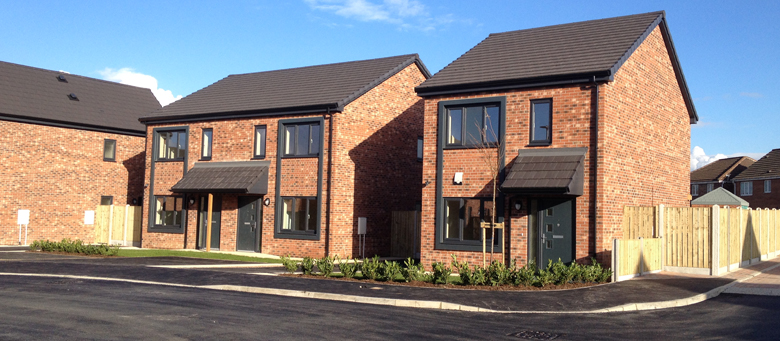 Building infrastructure in the UK is under review once again – the recently created National Infrastructure Commission is due to deliver its first report shortly – and better insulation of homes is one of the areas it could address as a part of its wider remit.
Here Mike Stevenson Development Director of offsite fenestration specialist Sidey tells us about their work with WDH in Wakefield through its in-house construction team, Homebuilder, which has already delivered greater thermal efficiency for its residents on a new-build site in the town as just one of the realisable benefits of building offsite.
For WDH there was a desire to deliver truly energy efficient social housing in its most traditional sense – not just properties for rent but genuine social housing delivered for long term residents. Homes with a true social value.
Commenting for WDH, Homebuilder manager Adam Green explained "As one of very few housing associations delivering new properties we are developing homes to be proud of, at a reduced cost with a build quality that is more thermally efficient and will help tenants avoid fuel poverty."
The 39 dwellings built at Ripley Court are in fact a case study of how to access all the benefits that can be achieved through building offsite.
Mike takes up the story "It was clear that WDH had a real understanding of the value to their residents of building to a high specification and that they understood how building offsite could deliver this for them cost effectively and in line with their time-scales.
"Our involvement with the scheme at Ripley Court came out of long term discussions we had been having with the Homebuilder team about the many benefits to be had from installing high specification windows in the factories of offsite manufacturers with the time and costs savings and the efficiencies in process which installing windows this way would bring.
"Through those ongoing discussions it became obvious that through collaboration with the right supply chain using innovative low risk solutions WDH Homebuilder and Sidey had real synergy and could deliver win:win results. We are both big on collaboration as the driver to maximise technical and supply chain efficiency, so after having completed a more traditional site together we were delighted to get involved with a true offsite scheme.
"WDH's culture being what it is, they brought other supply chain partners to the table with the same outlook and approach. It transpired that several of these companies had worked together on other schemes for other clients. These companies included the foundation system, structural timber frame manufacturer and the air tightness specialist along with Sidey.
"The absolute key to successfully realising the benefits of building offsite is for partners in the supply chain to have design team involvement and WDH drove this, actively encouraging it from the outset with all parties working with both their in-house design team and external architectural partner.
"The scheme really benefitted from the discussions between ourselves, the architects, the timber frame manufacturer, and the air-tightness solutions supplier. It meant we could design and deliver the optimal specification to WDH without compromise. It was a true offsite development rather than having to convert a previously designed 'traditional build' scheme to offsite construction.
"WDH adopted the innovations we suggested, following thorough due diligence, to help realise the overall benefits. This included using our patented KitFix ® bracketing system – which enables windows to be fixed into the apertures of the timber frame panels at the offsite manufacturers premises. The windows are 'contained' within the panels in a transport position enabling the panels to be stacked, banded, and transported to site as normal.
"The structures were wind and watertight immediately the panels were erected allowing follow-on trades to commence earlier while the windows being delivered in the panels meant there was reduced overall site traffic, reduced site attendance and reduced Health and Safety risk by removing the traditional impact of site delivery and manual handling of windows.
"Ripley Court is an 'exemplar' of what can be achieved when the client/developer drives a collaborative agenda. Others should look to this scheme as the benchmark for how to deliver outstanding technical performance and thermal efficiency coupled with financial and delivery predictability.
"WDH is clearly awake to the benefits of building offsite – others should follow their lead."
Mike Stevenson is Development Director of offsite fenestration specialists. For more information please visit www.sidey.co.uk.
https://buildingspecifier.com/wp-content/uploads/2016/06/Sidey-BS-ARTICLE.jpg
341
780
Product News
https://buildingspecifier.com/wp-content/uploads/2019/06/building-specifier-logo.png
Product News
2016-06-02 10:08:53
2016-06-02 10:08:53
WDH – Awake to the benefits of building offsite