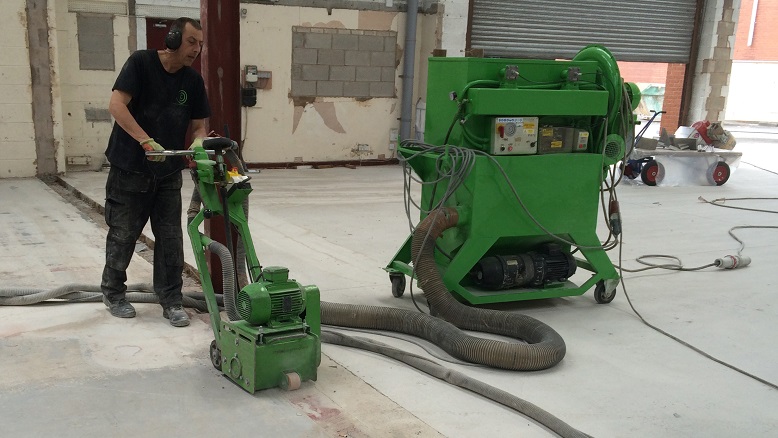 The Preparation Group specialises in environmentally friendly solutions for preparing, cleaning and finishing surfaces. Its contracting division PPC, was recently employed to remove 1-2mm of epoxy resin from the 840m2 concrete subfloor of a Howden's warehouse, ready for the application of a single pack coating.
The company used its 250 Planer fitted with a milling drum, removing the flexible resin material which varied in thickness and cutting into it with minimum damage to the background surface. After planing, the floor was ground with the heavy duty Terrco® 2000 Grinding and Polishing machine to create a perfectly smooth, flat 'profile' suitable for the application of the final thin coating system.
Planing
When selecting a Planer, it is important to look for machines that are simple to use and that offer precision cutting. The 250 Planer benefits from both lever and wheel drum lowering devices and no complicated switches. You simply turn on/off and lower the drum.
In planing, there are four main types of quick change drums fitted with different flails for a variety of applications:
Milling Drums:-
For removal of thermoplastic line markings, bitumous and rubber deposits, epoxy coatings and cementitious screeds in excess of 2mm.
TCT Drums:-
For traffic markings removal, stone surface cleaning, concrete grooving, heaving milling of concrete, scabbling, cleaning and roughening concrete and asphalt.
Beam Drums:-
For cleaning off paint without damage to concrete, de-scaling steel and removing oil and grease deposits.
Star Drums:-
For cleaning concrete laitance, de-rusting, general cleaning, paint & mill scale removal.
Grinding
The Terrco® 2000 multi-head machine is one of a range of grinders and polishers, the brand having evolved over 85 years. It is ideal for removing self levellers, screeds, coatings and adhesives from concrete, asphalt and stone surfaces. It also produces a high gloss finish on terrazzo, resin systems, concrete and asphalt.
On the Terrco®, different grades of diamond accessories are fitted to the rotating arms of the grinder, smoothing & removing as the machine moves forward, with the debris collected by a dust extraction unit.
When selecting diamond accessories for grinding, it is important to note that the materials used in the construction of floors varies considerably. The geographic location of the project provides an insight into regional materials used and must always be considered when selecting diamond accessories to prepare surfaces.
A simple equation is to examine the type of surface being treated. A hard composition surface will require a soft bond segment and a soft composition surface will require a hard bond segment.
In each instance the selection of the correct accessory will optimise the life of the diamond and provide cost effective solutions for the designated project.
In the event that the incorrect grade of diamond is selected it will simply glaze over the surface not creating the correct cutting actions, or "wear out" extremely quickly and often in the initial stages of the operation which proves to be costly and unsuccessful.
The Preparation Group's technical support team is available to advise and recommend on the correct combination of equipment and accessories for your specific project.
For more information please visit www.thepreparationgroup.com or call 01522 561460.
https://buildingspecifier.com/wp-content/uploads/2018/02/Removing-resin-with-250-Planer-The-Preparation-Group.jpg
438
778
Product News
https://buildingspecifier.com/wp-content/uploads/2019/06/building-specifier-logo.png
Product News
2018-02-06 15:36:00
2018-02-06 15:36:00
Removing old floor coatings