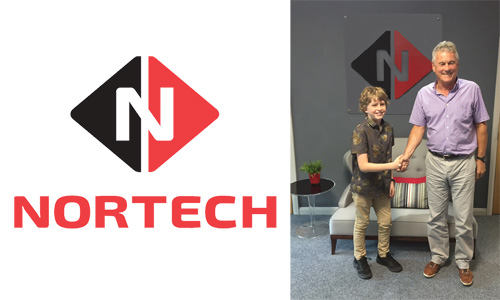 NORTECH PROUD TO SUPPORT TEEN INVENTOR'S ACCESS CONTROL SYSTEM
 People and vehicle access control specialist Nortech is heading into the end of the year on a high, with complying with the latest ISO 9001 standard, a busy year at exhibitions and getting involved with a local teen pioneer among its 2019 highlights.
Nortech's Managing Director Steve Blackler commented, "We are very pleased with how the company has progressed this year. We continue to grow and meet new standards and were also delighted to meet with Freddie Howells, a young inventor from nearby Usk over the summer to support him in his work to create a facial recognition door lock for an elderly relative with dementia."
After appearing in the news earlier in the year, Freddie was approached by Nortech to help him further develop his award-nominated home monitoring system. Freddie was invited to Nortech to discuss his product with the team and also received a tour of the site as well as some training to help him to expand his access control knowledge.
When Freddie heard his 88-year-old great aunt Pat who has dementia was struggling with potentially letting strangers into her home, he wanted to do something, so went on to invent something that would help her and others when home alone. Freddie developed a facial recognition, door entry and home monitoring system, the Door Pi Plus, where a motion sensor attached to the individual's front door detects motion and it triggers the camera to take a picture of the visitor.
The image is checked against a database of 'known' faces and if the person is recognised they are able to scan their ID tag for two factor authentication. If the face and ID match, the door is opened. If the face and ID are not recognised the visitor is prompted to call a number to gain access.
Following his visit to Nortech, Freddie has been offered ongoing support by the team to assist him in finalising his invention so it continues to help his great aunt and others in the future.
Error, group does not exist! Check your syntax! (ID: 4)
After taking on a number of apprentices in the last year, September has seen the intake progress into college programmes whilst still gaining experience alongside the Nortech technical team. The company's commitment to growth and the community has played a big part in its success and enabled it to expand in other areas.
To further help its installers, Nortech is developing a tech support area for its current website to ensure engineers can access the material they need easily when installing Nortech products. Work on the website has led to more traffic and takes on board the suggestions made by those who frequently work with Nortech, who are then likely to also look at other areas of the website.
Among the news items regularly posted on its website and social media are references to Nortech's presence at several shows this year and its pride in making the shortlist for a number of industry awards. Alongside the roadshows the company frequently attends, Nortech has also attended Parkex, Elevate and the LEGIC conference over the last few months and is constantly further developing its existing product range to satisfy industry demands.
Nortech has supplied products and solutions to the security industry for over 25 years as an independent British company. The company uses extensive experience and expertise to create new security products to fit their clients' needs and designs everything with the customer in mind.
Further information is available from Nortech on 01633 485533 or by emailing sales@nortechcontrol.com or by visiting the company's website at www.nortechcontrol.com
https://buildingspecifier.com/wp-content/uploads/2019/11/nortech.jpg
300
500
Lyn
https://buildingspecifier.com/wp-content/uploads/2019/06/building-specifier-logo.png
Lyn
2019-11-12 09:38:43
2019-11-12 09:38:43
NORTECH SUPPORTING TEENAGE INVENTOR