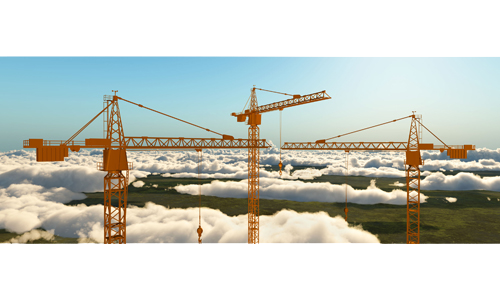 The government has announced new measures to help boost the construction industry that will be introduced this week, including flexible working hours, deadline extensions and speedy planning
Sites with consent that have an expiry date between the start of lockdown and the end of this year will now see their deadlines extended to 1 April 2021.
These new measures will prevent work that has been temporarily disrupted by the pandemic from stopping altogether.
The government estimates that by the end of this month alone, more than 400 residential permissions providing more than 24,000 new homes would have expired. The new measures will help these developments and more resume as the economy recovers.
New measures will also permanently grant the Planning Inspectorate (PINS) the ability to use more than one procedure – written representations, hearings and inquiries at the same time when dealing with a planning appeal, enabling appeals to happen much faster.
Flexible working hours
Builders will have the ability to agree on flexible construction site working hours with their local council for a temporary period.
This will make it easier to follow public health guidance onsite and by staggering builders' arrival times, public transport will be less busy, and the risk of infection will be reduced.
The announcement includes:
Introducing more than £330bn of loans and guarantees to help firms continue operating
Deferring self-assessment payments until 2021 – crucial for a sector in which many are self-employed
Providing households across the country with reassurance such as 3-month mortgage holidays, including for landlords, alongside a ban on tenant evictions which has been extended to 5 months
Safely reopening the housing market, helping estate agents, conveyancers, removals firms and the wider construction and property industry to return to work while following social distancing guidelines
Launching a Charter with the Home Builders Federation, helping construction sites reopen in line with health and safety guidance
Keeping workers safe and the economy moving
Housing secretary, Robert Jenrick, said: "Building the homes the country needs is central to the mission of this government and is an important part of our plans to recover from the impact of the coronavirus.
"New laws will enable us to speed up the pace of planning appeals and save hundreds of construction sites from being cancelled before they have a chance to get spades in the ground, helping to protect hundreds of thousands of jobs and create many others.
"Taken together, these measures will help to keep workers safe and our economy moving as we work together to bounce back from the pandemic."
A sustainable recovery
Commenting on the announcement, Victoria Hills, CEO of the RTPI, said: "The RTPI has been calling on this Government to extend planning permissions granted since the beginning of lockdown so we are delighted that the Minister has agreed with us and has taken these measures.
"Planners have been at the forefront of flexible approaches and innovative thinking in responding quickly to the pandemic and now how we need to shape a fairer and more sustainable recovery."
Ian Fletcher, director of real estate policy at the British Property Federation, commented: "An extension to planning permissions is a welcome boost for development sites across the country and something we have been working with Government throughout lockdown to progress.
"It is vital to economic recovery that new investment continues to flow into our towns and cities, homes and high streets, and for those projects on rapidly expiring planning permissions over the coming months, this extension allows them to proceed with a little more leeway."
Innovate or face 'ever-deepening housing crisis'
Dave Sheridan, executive chairman at ilke Homes, said: "The government's new measures to help the construction industry boost housebuilding are welcome. Speed will be of paramount importance as the industry tries to get back on track.
"Pre-Covid-19 we were already missing the target of building 250,000 new homes a year by some margin, and if we are to recover fast and effectively, then increasing the uptake of modern methods of construction must be a priority.
"Manufacturing homes offsite means they can be delivered twice as quickly as those built using traditional methods and with much less disruption to local communities, enabling flexible working hours on construction sites.
"This is a crucial time, and unless we innovate now, we will be facing an ever-deepening housing crisis."
Source: PBC Today
https://buildingspecifier.com/wp-content/uploads/2020/06/BSC-IMAGE.png
300
500
Lyn
https://buildingspecifier.com/wp-content/uploads/2019/06/building-specifier-logo.png
Lyn
2020-06-23 11:37:31
2020-06-23 11:54:37
NEW MEASURES TO BOOST CONSTRUCTION