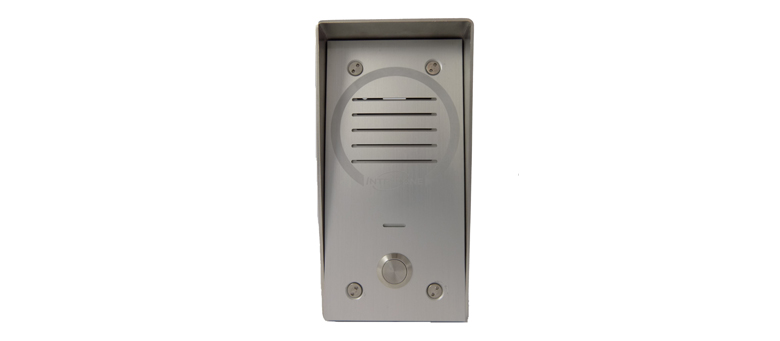 Intratone, one of Europe's largest access control specialists, has launched Intracall, a new one-way intercom system that includes a pre-paid, 3G communications module with 15 years of unlimited audio communications.
The system, which is easy to install and can operate seven pre-set phone numbers (each allocated to a different time), overcomes one of the major headaches of existing systems that are 'pay as you go' as Nicolas Gaine, Export Sales Manager at Intratone, explains: "The problem with systems using 3G and SIM cards is what happens once the credit has expired," he says, "and who is responsible for meeting the ongoing cost.
"In developing Intracall, we have removed this problem completely by providing a pre-paid SIM that lasts for 15 years. Not only does this remove the risk of a new system becoming redundant through lack of funds, but it also brings more certainty and visibility to pricing and future running costs."
Ideally suited for multi-use and 24/7 premises including car parks, commercial businesses and hospitals, Intracall includes the option to integrate a remote analogue PAL camera to enable operators to both hear and 'see' their visitors. The system itself is also easy to use; a single button dials one of the seven pre-programmed phone numbers, depending on the time of day and the operators' specific settings.
In addition to Intracall, Intratone has also launched a new coded keypad that is ideal for gate automation and access control professionals. The new keypad comes in an INTRABOX package that includes the coded keypad and a GPRS data module with an integrated RF receiver.
"Code management for many installers and property managers can be a challenge," Nicolas continues. "A code's life expectancy is short and needs to be regularly changed as a large number of people can know the code."
"Changing a code often requires lengthy trips to sites, which are inefficient and expensive for installers. Intratone's new coded keypad solves this by being web-based, so the code can be changed remotely and at any time. Time profiles can be added to the codes, ensuring operators can keep them secret for longer, while it also comes with ten years of pre-paid data to pay for the 3G web-based communications."
For more information please visit www.intratone.com.
https://buildingspecifier.com/wp-content/uploads/2017/03/Intratone.jpeg
341
780
Product News
https://buildingspecifier.com/wp-content/uploads/2019/06/building-specifier-logo.png
Product News
2017-03-22 09:26:53
2017-03-22 09:27:01
Intratone launches new products with pre-paid 3G communications