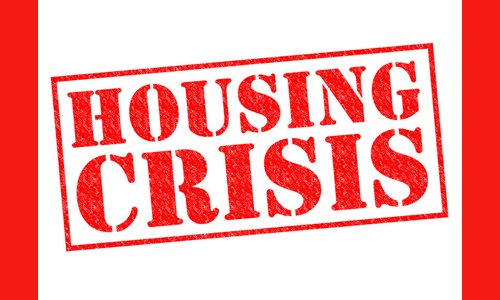 Housebuilding needs to increase in the UK. It is predicted that a total of 340,000 homes need to be delivered each year in order to tackle spiralling house prices and the critical shortage of affordable homes. This target has constantly been missed – with figures showing that only 184,000 homes were completed in England in 2016/17. This is more than in recent years, but still below the 2007/08 pre-recession peak of 200,000.
A report by Joe Bradbury, Editor
Recent figures published by the National Housing Federation (who represents housing associations in England, social landlords to 5 million people) and Crisis (the national charity for homeless people) reveals the true scale of the housing crisis in England.
The groundbreaking research, conducted by Heriot-Watt University, to be published in full this summer, shows that England's total housing need backlog has reached four million homes. A new housing settlement is needed to address this shortage, providing a home for everyone who currently needs one, including homeless people, private tenants spending huge amounts on rent, children unable to leave the family home, and even couples delaying having children because they are stuck in unsuitable housing.
To both meet this backlog and provide for future demand, the country needs to build 340,000 homes per year until 2031. This is significantly higher than current estimates (including the Government's target of 300,000 homes annually), which have never before taken into account the true scale of housing need created by both homelessness and high house prices.
However, simply building a total of 340,000 homes each year will not meet this need – they will need to be the right type of homes. 145,000 of these new homes must be affordable homes, compared to previous estimates of the annual affordable housing need of around 78,000. This means that around two-fifths of all new homes built every year must be affordable homes – in 2016/17, only around 23% of the total built were affordable homes.
How do we fix this?
A substantial part of the problem is that housebuilders in possession of large sites often only release a small amount of homes at a time, as building at a slower pace allows them to maximise the value of their assets. As a result local authorities are now looking at reclaiming and managing the construction of new homes. Councils have largely been removed from housebuilding since the conservative government came into power in 1979, where private construction rose, but not by enough to compensate for the fall in public sector building.
So what have local authorities been doing all this time? Council advisers argue that they been exploring ways of getting back into housebuilding after decades of being removed. Both Labour and Liberal Democrats have historically argued in support of the state to once again commission and build new homes. Nevertheless, conservatives insist on austerity and warn that they need to be cautious about the state getting involved in housebuilding – stating that the country must live within its means.
It is clear that if the state reclaims house building then cost effective methods of building will have to be utilised. Offsite construction provides the solution. Through the use of offsite construction, the government will be able to deliver houses at a lower cost and a rapid pace. Offsite construction has been around for decades; however, it is only now that its benefits are truly being recognised. It has been stated that a main factor holding up housebuilding in the short term, is a lack of materials. The surge in demand in late 2013 and early 2014 led to a decrease in availability of traditional materials such as bricks. This paved the way for prefabricated materials like timber and steel to be used in housebuilding.
There is an urgent need for a mass volume of houses to be constructed in a limited time scale and whether the state takes on housebuilding, or if it is left to private house builders, the benefits of offsite construction could be crucial to meeting targets that have repeatedly been missed. Offsite construction provides housebuilders with programme certainty and quality though simplification of site operations and reduced weather dependencies due to the controlled factory-based assembly process. Houses delivered through offsite construction offer enhanced specification standards and build quality which reduces occupancy costs related to energy use, defects and repairs. There is significant evidence that suggests that the use of offsite construction has been successful when applied to meet the needs of significant housing developments at scale with consequential opportunities for standardisation of design details – particularly to meet the need of government led programmes.
Reducing waste
According to 'The Waste and Resources Action Programme', offsite construction can generate up to 90% less waste than traditional onsite building methods. This is largely because a factory is a much more controlled environment than a traditional building site – with far fewer variables.
Offsite construction is far less energy intensive than traditional housebuilding methods. The carbon footprint left by the many construction vehicles and machinery on the site of a traditional construction project alone is considerably larger than that of modular construction. Put simply, fewer vehicles involved and less time spent on site results in less greenhouse gases being released into our environment.
In summary
The positive effects of offsite construction on the housebuilding industry cannot be overstated, and with the UK Environment Agency and other government bodies putting increasing pressure on construction companies to reduce pollution and conform to environmental regulations, it is clear to see that change is imminent – embrace the future, build homes offsite.
https://buildingspecifier.com/wp-content/uploads/2019/10/OCT-FEATURE-1-WEB-1.jpg
300
500
Lyn
http://buildingspecifier.com/wp-content/uploads/2019/06/building-specifier-logo.png
Lyn
2019-10-15 07:28:42
2019-10-15 07:30:10
England is short of 4m homes