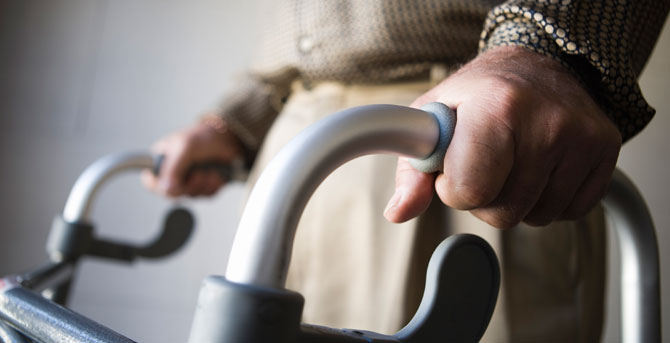 Disability + Architecture = Inclusive Design: Access for All
Joe Bradbury of Buildingspecifier.com assesses the importance of forward-thinking in building and landscaping, considering the concept 'inclusive design' as a method of ensuring that all areas are easy to navigate for all members of society.
What is inclusive design?
Inclusive design is defined by the British Standards Institute as "the design of mainstream products and/or services that are accessible to, and useable by, as many people as reasonably possible… without the need for special adaption or specialised design." It furthers on this definition by saying that it is not simply a stage that can be added in the design process and it is not solely about designing products for a specific capability loss.
The final point there being one of significant importance – The concept of inclusive design should mean that prior to constructing a building, the needs and requirements of all should be taken into consideration, to ensure that the finished product is completed to the specification that is suitable en masse, rather than aimed at one section of society. Whilst we are all clear on the meaning of what 'inclusive design' is, it appears that the only factor left that seems to be so often misinterpreted is the definition of 'majority.'
What challenges are currently being posed?
We all live in buildings. We work in buildings, we socialise and consume in buildings and if you're reading this – you're probably inside a building right now. If you are, I want you to look around and consider, for a brief moment, what steps have been taken during its design and build to allow the structure to be accessible and usable by "as many people as possible." Can you see examples, if any, where the idea of inclusive design has been utilised successfully? If not, I'm sure you can see areas of the building that could have been developed considerably better if it had. Take stairs for example:
Stairs are primarily used for moving people; they provide access to offices, bedrooms, bathrooms, storage spaces, amenities and can often be central to the whole function of a building. Stairs help us navigate the terrain around us, tackle elevations in the landscape and are an integral part of modern life. These stairs – a useful architectural tool, are used successfully by millions each year as a fundamental access point to various areas. For other members of society, namely wheelchair users and people with physical disabilities, these stairs can prove to be a difficult obstacle or worse, a blockade; sometimes entirely preventing access to the building or open space. Although the BSI state that inclusive design is not about catering solely to those with such needs and requirements, instead covering a much wider demographic by aiming to appease everybody, it seems difficult to believe that some members of society have been considered at all when in 21st Century Britain we still have buildings and public places that are frankly inaccessible to disabled people.
Accessibility isn't easy to define, as it depends on each person's specific needs. Society is made up of individuals; inclusive design can bring forth interesting perspectives to that could ultimately change our horizons and the landscape around us.
When designing a building, aesthetics are widely considered paramount. An overall look of a building directly influences our surroundings, the appearance evoking emotion in the people viewing it. It can convey a message of warmth, power, security and competence. Embassy buildings are famously designed it innovative and dramatic ways. The embassy is an ambassador of the country it represents and aims to convey a positive, authoritative message. Whilst the appearance of a building is incredibly important, it is equally important that the building is fit-for-purpose. Indeed, many of the greatest feats of architectural prowess are those buildings that manage to achieve a stunning balance – exceptional in both design and functionality.
Inclusive Design Case Studies
The UK's Centre for Accessible Environments (CAE) advise building designers on how to meet the conditions set out in the government's Equality Act. The CAE actively promote the ethos of inclusive design, believing that disabled people should be invited to participate in developing solutions that fulfil universal accessibility requirements. They heavily influenced London 2012 Olympic and Paralympic Games, advising those responsible for designing sporting venues and accommodation in the Olympic park. As well as improving accessibility for the event itself, various other changes were made across the English capital, changes that can still be seen in London today – such as the lift installed on Tower Bridge and various ramps and lowered curbs throughout the city. This is a good example of the successes that can be achieved when true inclusive design is implemented – the benefits of which leave behind a legacy for London residents and tourists alike for years to come.
The 'Access City Award' was launched in 2010 to raise awareness of disability and promote accessibility initiatives in European cities. The award is given to the city that has demonstrably and sustainably improved accessibility in fundamental aspects of city living. This year's winner was Gothenburg in Sweden, who proudly boast the motto "a city for everyone."
Gothenburg isn't the only city that is worthy of praise, with Belfast Ireland, Dresden Germany, Burgos Spain and Malaga Spain also receiving a special mention by the European Commission, for pioneering the concept of "access for all." This is great news, of course, but it seems that these cities increasingly have to change the existing landscape and infrastructure to make it better, conflicting with the BSI definition that inclusive design need not require "special adaption." Perhaps if designers became more committed to implementing inclusive design in their projects going forward, these costly amendments to our cities and infrastructure could potentially be avoided; perhaps eventually negating the need for awards such as 'Access for All.'
The future of inclusive design
The government are now backing an initiative to encourage building designers and urban planners to ensure all areas are accessible for all, regardless of their physical capabilities. Communities minister Stephen Williams met with key professional bodies on 20/10/14, challenging them to develop a tangible action plan for review in February 2015. Chief executive for the Design Council-Cabe, John Mather, said "We believe that there is not only a need, but a desire within all sectors of the development industry to develop a shared practice and guidance around inclusive design, and we're delighted to be able to lead on this critical issue."
Architects undeniably have such influence over our environments, our homes and our public spaces. It is becoming an increasing belief that by focussing on architecture and the built environment we can help resolve issues such as accessibility in order to foster greater growth, reduce the monetary impact on the Great British public and ultimately improve the places we live, work and play forever.
Everybody has a basic human right to access to the same opportunities and resources. It would be great to see that in the wake of London 2012 successes that UK designers, architects, specifiers and industry professionals could fully back the new government incentive and pave the way in pioneering the elusive ideology of 'inclusive design' for a better future.
Published on 23/10/2014
---
Further reading
https://buildingspecifier.com/wp-content/uploads/2014/10/231014-disability-web.jpg
343
670
Building Specifier
https://buildingspecifier.com/wp-content/uploads/2019/06/building-specifier-logo.png
Building Specifier
2014-10-23 08:34:40
2014-10-23 08:34:40
Disability + Architecture = Inclusive Design: Access for All