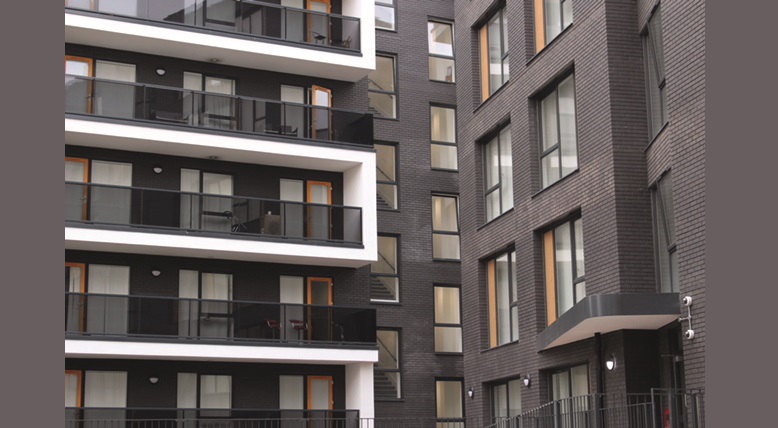 Advances in window systems and exciting new composite materials are turning perceptions on their heads and extending the limits of commercial windows and doors.
First generation PVC-U windows and doors were bulky and unattractive and came in a very limited range of colours. And if you wanted very big windows and tall, or very tall doors standard PVC-U isn't the answer. So, specifiers have traditionally favoured aluminium for commercial projects for aluminium's strong, slim profiles and wide colour selection. But the rate and scale of development in commercial windows has been phenomenal, and it's now possible to have the best of aluminium with the best of PVC-U in one window. Specifiers can now have the warmth and energy efficiency of PVC-U and the sustainability, strength, looks, and the colour choice of aluminium in high performance composite commercial windows.
Linktrusion™ – the latest exciting commercial innovation by Deceuninck
This new solution is based on Deceuninck's Linktrusion™ technology, and it comes with many exciting new benefits.
Linktrusion™ composite technology is a true innovation that breaks new ground in the commercial sector. This patented technology is used in our composite 5000 window system which incorporates immensely-strong pultruded glass-fibre in the profiles, plus optional patented thermal reinforcement with embedded steel wires in a low density insulating foam core encased in recycled PVC-U for excellent U values.
Windows manufactured with Linktrusion™ are as strong as steel reinforced windows, but 30% more thermally efficient, with up to 40% savings on materials and weight. Linktrusion™ technology is the first to remove the need for traditional steel reinforcement, and its inherent great strength allows specifiers to consider using very tall windows and very large doors (1100 x 2500 or 1150 x 2400 for a single door). The windows have slim sightlines, are available in countless Decoroc and foiled colours and are 100% recyclable. Feedback from specifiers has been extremely positive. London and Quadrant (L & Q) for example specified this ground-breaking technology for their recent flagship complex in Abbey Road, Barking. L&Q is one of the UK's leading housing associations and one of the largest residential developers in London. The organisation wanted windows with top performance and aesthetics. Using Deceuninck's unique LinktrusionTM technology the project was completed in Decoroc Anthracite grey RAL 7016 – a very popular choice of colour in the commercial sector.
Forging strong ties with commercial fabricators and contractors
Deceuninck has an exciting portfolio of commercial projects including Imperial College London (1,100 apartments), Hinkley Point staff accommodation (1,400 apartments), Ocean Village in Southampton (700 frames), and Trafford House in Basildon (4,500 apartments). We develop strong, close relationships with commercial partners to help them meet project specifications, and our technical support team is available to help with complex issues such as weather performance, energy efficiency and increasingly, acoustics.
Acoustics is fast becoming a critical factor in commercial specification, with developers keen to reduce the impact of noise pollution. That's why Deceuninck is currently investing in systematic acoustic testing of its full range. As far as we're aware, we're the first PVC-U window systems company to make this commitment. Working in partnership with one of the country's leading acoustic testing centres at the University of Salford, we've completed testing of our 2500 and 5000, and Fully Reversible Window, with further testing in progress.
Deceuninck's acoustic expertise was crucial in the Hinkley Point C staff accommodation development. Developers and planners needed to reduce the impact of noise on workers so tasked Dempsey Dyer and Deceuninck to cut the decibel rating down by RW35db to produce windows of RW40db and RW43db.
Call 01249 816 969 or visit www.deceuninck.co.uk for more about our commercial range and commercial work. You can also download Deceuninck's full product portfolio from the NBS National BIM Library at www.nationalbimlibrary.com/deceuninck-ltd.
https://buildingspecifier.com/wp-content/uploads/2018/08/Deceunincks-Linktrusion-technology-was-specified-for-London-Quadrants-Abbey-Road-development.jpg
428
778
Product News
https://buildingspecifier.com/wp-content/uploads/2019/06/building-specifier-logo.png
Product News
2018-08-20 15:48:58
2018-08-20 15:48:58
The next generation of commercial windows