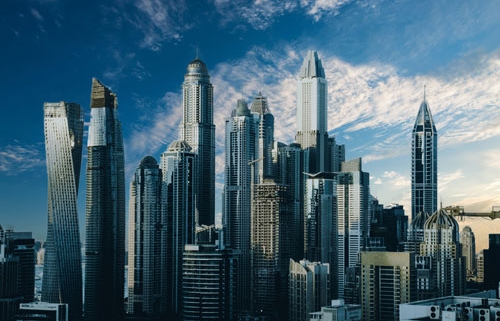 When people think of offsite construction they often think of new-build. However, offsite technology can also be utilised within the refurbishment of an existing building, bringing with it all of the benefits (such as faster delivery times and less on-site disruption) that has become synonymous with the practice. Joe Bradbury of Building Specifier investigates.
The industry today
The UK construction industry is worth nearly £100 billion to the UK economy each year. But tighter restrictions, increasing build costs and a lack of skilled labour are threatening the sector's future growth.
But where there are challenges, opportunities can also be found, and the sector has seen several innovative solutions come to the fore in recent years. This is particularly true when it comes to prefabrication and offsite construction products that can be retrofitted into existing buildings in dire need of updating.
Offsite solutions are being deployed across a wide range of new and refurbishment projects, from hotels and leisure to education and research facilities. And with the backing of the Government, their usage is only set to increase further.
But why are offsite solutions becoming more popular, and why is the Government keen to back them? In short, they deliver quality at scale, and help projects of all sizes complete on time and to budget. Currently the demand being placed on the construction industry continues to rise, but the number of projects completing on time and to budget continues to fall. This is not just due to tighter regulations and labour shortages, but other factors like the weather and delays in the supply of materials.
Factor in housing shortages, an aging population, an increase in speciality housing needs, a lack of suitable student accommodation and an uptick in the number of build to let homes, and it's clear to see why prefabricated solutions are being more widely used.
Error, group does not exist! Check your syntax! (ID: 4)
Why offsite?
Offsite solutions are becoming more popular as they can be designed, manufactured and pre-assembled offsite, and then simply dropped into place for ease and speed in new build projects but still provide the high quality expected. Specialist manufacturers design and build tailored products, to perfectly meet client specifications and these are simply delivered whole ready for installation and fitments or re-assembled onsite quickly and easily for the purposes of refurbishment. Installation does not require skilled labour, significantly reducing time and costs.
Take bathrooms and showers as an example; these can be the most complex part of a refurbishment project due to the need for wet trades and a range of skilled labour, from designers to plumbers, electricians and tilers. Examples such as pre-fab pod solutions however, can be completely bespoke and designed to fit into any space – whether a Grade II listed manor house, an office block, a refurbishment or a new-build.
Sectional pods are ideal for limited spaces, and bespoke designs can be completed from concept to delivery much quicker than manual builds, where a whole host of factors can slow down the build, from the late delivery of materials to several contractors having to work together, in confined spaces and reliant on other trades' staged completions.
Greater control
In terms of the construction process, modular building and offsite construction techniques provide specifiers with programme certainty and quality though simplification of site operations, whilst also reducing weather dependencies due to the controlled factory-based assembly process. The ancillary benefit of this is that buildings retrofitted with offsite technologies offer enhanced specification standards and build-quality which reduces occupancy costs related to energy use, defects and repairs.
Constructed offsite, under controlled plant conditions, using the same materials and designing to the same codes and standards as conventionally built facilities, projects can be completed in about half the time. The finished modules are transported and put together on site.
As a nation we need affordable, well designed and energy efficient buildings to meet a bustling demand and tackle issues such as fuel poverty and climate change. Sustainable building methods and renewable energy are pivotal in delivering a sustainable solution and can be retrofitted into any building, if we put our minds to it.
It makes environmental sense
Specifiers are now rightly expected to make buildings sustainable and energy efficient as part of the greater effort to reduce CO2 emissions, energy consumption and waste as a nation. As such, environmental considerations will naturally transform how our buildings are constructed and subsequently refurbished, what materials are used and which methods are employed.
Offsite construction is far less energy intensive than traditional construction methods. The carbon footprint left by the many construction vehicles and machinery on the site of a traditional construction project alone is considerably larger than that of modular construction. Put simply, fewer vehicles involved and less time spent on site results in less greenhouse gases being released into our environment.
The transition to a low-carbon economy presents our industry with great opportunities for growth. Environmental considerations will transform how our buildings are constructed, what materials are used and the methods employed. We are now on the cusp of the predicted 'sea-change' and that the time is right for the construction industry to embrace innovative offsite techniques to develop better buildings at a rapid rate to enhance lives, minimise the environmental impact and reduce energy costs for occupants for many years to come.
Government backed
The Government have been very vocal about offsite in recent years, championing the benefits it offers. They have repeatedly stated that they will support 'building long term collaborations' with the industry, 'exploiting digital technologies such as the adoption of offsite construction techniques'.
In addition, they would 'adopt a presumption in favour of offsite construction by 2019 across suitable capital programmes'. This stands as further evidence of the rising popularity of offsite modular construction.
As more and more projects are completed, construction management will recognise that modular design can be commercially viable alternative to traditional builds.
Sleek designs and high specifications mean they can be used from high-end projects such as hotels, right down to student accommodation, and still deliver a solid ROI.
In fact, the high specification, unrivalled quality, offsite checks and lower maintenance can extend the longevity of the bathroom environment way beyond those offered by traditional refurbishment practices which often require on-going maintenance.
In summary
The construction industry as a whole (including the refurbishment and retrofit sector) has a job on its hands. Take housing as just one example; if the construction industry stands any chance of delivering 1 million new homes by 2020 and do something real about the 11,000+ homes across the UK that have been empty for 10 years or more, it can only do so by evolving to keep up with a changing world. Despite all of the noise, offsite construction accounts for less than 10% of total construction output at present. This is frustrating, but it also means there is still tremendous scope for further expansion across the various sectors that comprise construction. Let's do our part too and embrace offsite.
Joe Bradbury, Editor
https://buildingspecifier.com/wp-content/uploads/2019/09/BS-future.jpg
333
500
Lyn
https://buildingspecifier.com/wp-content/uploads/2019/06/building-specifier-logo.png
Lyn
2019-09-17 13:25:04
2019-09-18 06:49:10
The future of retrofitting is offsite