The value of all construction contract awards in June 2019 was £5.2 billion based on a three-month rolling average, which is an increase of 5.5% on May. Regional analysis shows that the North West was the leading region for contract awards in June with a 36.6% value share.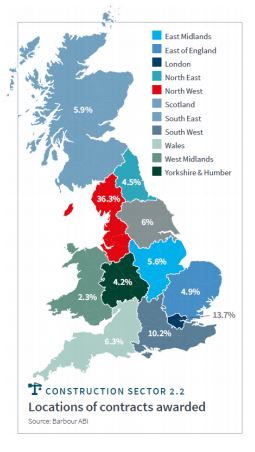 The latest edition of the Economic & Construction Market Review from industry analysts Barbour ABI highlights levels of construction contract values awarded across Great Britain. The overall outlook for June contract awards increased by 5.5% on May 2019. The infrastructure sector accounted for 37.2% of total value of contract awards, due to the SPRS. Construction Programme at the Sellafield Site – valued at £1.5 billion, which boosted the North West's project share.
London dominated in only two of the eight sectors for June 2019 – residential with a 26.2% share and commercial & retail with a 23.7% share of total contract awards. Construction activity has moved out of the capital for June, with a more even spread of contract awards across the UK. The East Midlands dominated the industrial sector, largely due to investment in warehousing and storage. The South West took the top spot for hotel, leisure & sport and Scotland took the lion's share of projects in the medical & health and education sectors.
Commenting on the figures, Tom Hall, Chief Economist at Barbour ABI said "London has dominated project awards every month in 2019. However, for the first time this year, we see a shift in the spread of project awards across the country. Likewise, for the first time this year, we see infrastructure investment overtake the residential sector which has been the most active sector of construction for over 6 months."
https://buildingspecifier.com/wp-content/uploads/2019/08/CONSTRUCTION-BS.jpg
300
401
Building Specifier
https://buildingspecifier.com/wp-content/uploads/2019/06/building-specifier-logo.png
Building Specifier
2019-08-07 08:27:48
2019-08-07 08:53:09
Analysis indicates UK construction activity is moving out of the capital