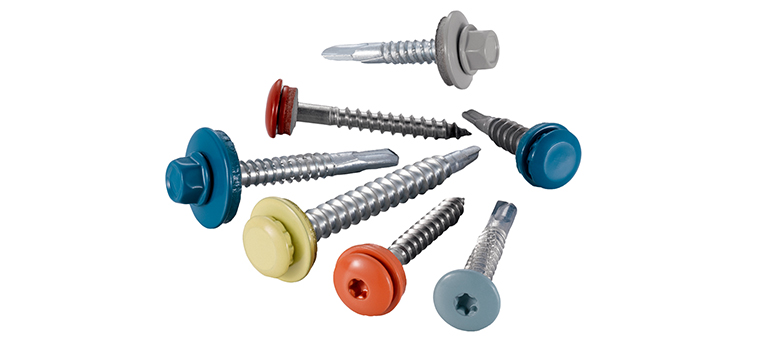 Developer and client demands for building envelopes which offer outstanding build-quality in the long term, and enhance the overall green credentials of the finished building, are driving increased interest in high performance A4 (316 grade) stainless steel fasteners, according to global fastener manufacturer SFS.
The company, which pioneered A2 (304 grade) and A4 (316 grade) stainless steel fasteners for roofing and cladding in the UK more than 30 years ago, has completed orders for A4 stainless steel fasteners for a string of high profile building projects during 2017. These include the stunning new golden-clad Alchemist bar and restaurant which is set to be a new landmark at Salford Quays, the Vita York student complex, the Royal Liverpool Hospital Life Science Accelerator building, the Broughton Airbus Building and several buildings at the Jaguar Land Rover plant.
The key advantage of A4 fasteners versus A2, which have made an enormous contribution to improving standards in roofing and cladding installations in recent years, is that they offer extended resistance to corrosion. This gives OEMs and contractors the scope to offer warranties on the building envelope of up to 40 years (depending on the system and building type/location) – an additional 15 years on what A2 fasteners are capable of.
In delivering a longer lifespan, A4 fasteners are vitally important for clients seeking higher sustainability ratings on their buildings. This is because the building envelope will retain its integrity and visual appeal for a much longer period, without the need for maintenance or premature replacement which is costly, inconvenient for building users and impacts significantly on the carbon footprint of the building.
Andy Stolworthy, Product & Market Development Manager at SFS, says "The use of A4 fasteners has long been widely accepted for areas with corrosive environments, such as densely populated urban and industrial locations, and particularly coastal areas. In recent years there has been an increase in demand for A4 stainless steel fasteners for all applications, driven by specifiers and clients seeking an enhanced quality product for increased building longevity.
"With initiatives including BIM putting the building industry on an upward trajectory in terms of overall quality, value and sustainability, A4 fasteners have a clear appeal. The operational expenditure needed for a building during its service life is already significantly greater than the capital budget required to build it in the first place. So, investing slightly more in the build – i.e. by choosing A4 fasteners for the envelope, rather than coated carbon or A2 – allows the operating costs to be considerably reduced, with guaranteed performance for at least another 15 years longer."
SFS provides an extensive range of stainless steel fasteners across A2, A4 and A5 materials for all kinds of roofing and cladding applications, and works closely with OEMs to ensure innovative and creative approaches to the building envelope can be reliably and confidently delivered.
Customers can access detailed information about all the fastening solutions available from SFS through downloading its 2017 Roofing and Cladding Catalogue from their new website www.sfsintec.co.uk. Customers can also benefit from UK-wide sales and technical teams, both dedicated to providing market-leading customer service to ensure the best possible result in the finished building envelope.
https://buildingspecifier.com/wp-content/uploads/2017/11/SFS-BS-ARTICLE.jpg
341
780
Product News
https://buildingspecifier.com/wp-content/uploads/2019/06/building-specifier-logo.png
Product News
2017-11-13 10:02:03
2017-11-13 10:02:03
Quality and sustainability shift puts A4 Stainless Steel Fasteners in pole position