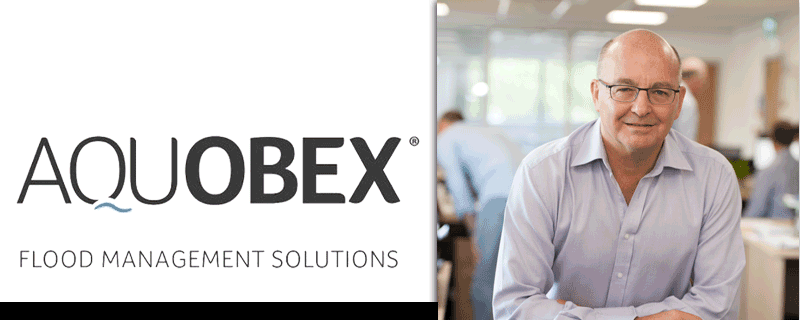 By John Alexander, Managing Director of Aquobex,
leading global specialists in designing, developing and
implementing flood protection solutions for homes and businesses. 
While a most welcomed one, the Government's announcement for 'record' investment of £860m into more than 1000 flood alleviation schemes is an ambitious one to deliver in this current fiscal year.
There are still millions of homes around the UK that need to be protected, so this latest committed spending programme will bring greater certainty and continuity to households affected and to the flood protection industries supplying these schemes, to help the country avoid the current pitfalls that occur due to the current 'start stop' approach to flood mitigation.
Most welcome, though, are the tighter restrictions on planning permission for new builds because we need to reduce the number of homes at risk rather than increase them.
The enthusiasm from the flood re-insurance scheme, Flood Re, for a build back better proposition for the existing 5.2m properties liable to flooding is also positive and we await the detail in their remit from this announcement.
Rather than current insurance policies with like-for-like replacements after an event, Flood Re insurance policy changes will improve a property by allowing insurers to pay additional amounts for property resilience measures, such as Floodguard Slot In flood barriers which are versatile to fit most widths or flexible flood doors, like Hydroguard, so recovering from a flood is much quicker and cheaper.
The other big issue though, which is unlikely to be a part of the Government's recent flood defence spending plan, is how we remedy surface water flooding, which is increasingly affecting communities. We saw this in parts of the country, most recently London, as its remedies are in improved drainage, SUDS and with, some imagination, natural floodplain management (NFM) in suburbia.
Surface water flooding is occurring more often these days due to the ever-increasing amount of impermeable surfaces and the high intensity rainfall events we're experiencing through climate change. It is also harder to predict, plan for and respond to yet 1.4m of affected properties suffer from surface water flooding.
The Government's recent report published on surface water management action is of equal importance as it outlines how local authorities and the Environment Agency will work closer in this area with new mapping by 2022 and a more joined up approach.
Surface water flooding is a growing challenge with climate change bringing more frequent heavy storms, new developments increasing the need for drainage, and our ageing sewerage infrastructure which is costly to maintain and upgrade. Surface water management needs coordinated action by all those with responsibilities for managing land, rivers and drainage systems, including national and local government, water companies, landowners and businesses.
However, how this is going to be funded is the million-pound question. 
For more information on flood defence actions, contact Aquobex on 01923 518 582.
https://buildingspecifier.com/wp-content/uploads/2021/08/aquabex.gif
320
800
Lyn
https://buildingspecifier.com/wp-content/uploads/2019/06/building-specifier-logo.png
Lyn
2021-08-04 10:53:41
2021-08-04 13:59:45
Positive changes ahead for the building, flood protection and insurance industries