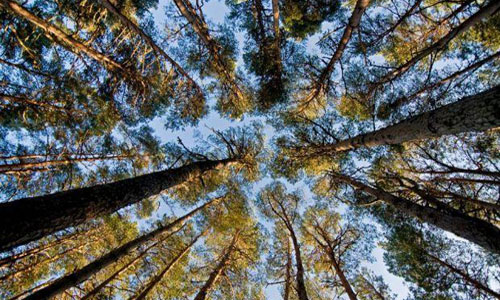 Timber pivotal to energy efficiency which is vital to counter balance constructions 45% contribution to UK carbon emissions
#carbonemissions #timber #scottishforestry #environment #energyefficiency @scotwoodlands
Trees have been imbued with a potent symbolism throughout human history – representing life, energy and stability – but woodlands as a low cost, risk-free carbon capture solution have been at the centre of climate action and the very future of the planet itself since at least the Paris Climate Change conference in December 2015.
As we approach Earth Overshoot Day on August 22 the importance of Scottish forestry, an industry which with 19% against a UK average of 13% has the biggest coverage of woodland in the UK, will be at the forefront again.
"Scotland's forests absorb about 10 million tonnes of CO2 equivalent every year and wood products also contribute to climate change mitigation by continuing to store captured carbon," says Simon Oldham, technical director of Scottish Woodlands, based at its Edinburgh head office.
It's a major player in the British forestry and timber industry, delivering more than 1 million tonnes of timber each year to UK processors, managing more than 200,000 hectares of forest and planting more than 25% of private sector woodland expansion.
Net zero is not achievable without significant woodland creation,

Simon Oldham is Technical director of Scottish Woodlands
"The Scottish Government is very focused on its environmental targets and recognises the importance of the forestry industry in meeting those, he says adding: "A net zero Scotland by 2045 is not achievable without significant woodland creation. The already successful commercial forestry industry here employs 25,000 people, so support for that will help achieve our emissions target while also bringing employment and other economic benefits – a win-win situation."
Key to this has been a programme of new planting and an end to the removal of existing woodland. As recently as just over a decade ago in the UK some of the early, large-scale onshore wind farm developments erased areas of forestry, ironically in the cause of generating green energy.
"Now the quid pro quo is that you must replace an equivalent area somewhere else, based on the premise that any new woodland planting is important new carbon fixing capacity," says Oldham.
In 2018-2019 Scotland exceeded its strategic planting target of 10,000 hectares with 11,200 hectares and the most recent figure published in June was 10,860 hectares – a good result given the backdrop of Covid-19 plus a particularly dry April that had a bigger impact than the measures taken over the virus itself and is moving toward a target of 15,000 hectares by 2025.
Since the outbreak of the pandemic Scottish Woodlands has been increasingly aware of a strengthening in investor interest in forestry and natural resources. "With the shocks and headwinds facing assets that are less tangible, investors are voting with their feet and moving their money into substantial assets such as forestry, which also has a positive environmental footprint," he says.
Much of forestry's value lies in the demand for its products. "Where there are choices to be made, timber almost always wins hands down as a green building material, minimising as it does the carbon footprint of the construction process, the embedded carbon profile of the completed building and ensuring its future energy efficiency," he says.
Scotland is in an excellent position to take advantage of innovative technology using efficient, modular construction methods, with 85% of new construction in the country being timber frame compared with England where it's around 20%, with the remainder being block and brick build.
Oldham is realistic that demand for housing could be affected in the short term, post-Covid, depending on the support given to the construction industry and wider economic prospects but is optimistic that the increased use of timber will be positive on several levels.
"The construction, operation and maintenance of buildings accounts for about 45% of the UK's total carbon emissions so increased energy efficiency is a huge target for this industry –  and timber will have a pivotal role to play in meeting that."
This article appeared in The Herald's Earth Overshoot Day series, under the topic of Nature and how we boost our ecosystems.
For more information on forestry management please visit www.scottishwoodlands.co.uk
To participate in The Herald's Earth Overshoot Day coverage on the 22nd August please contact Stephen McTaggart on 07788 367 461 or by email at stephen.mctaggart@heraldandtimes.co.uk 
https://buildingspecifier.com/wp-content/uploads/2020/08/BSC-NEWS-10.08.20-3.jpg
300
500
Lyn
https://buildingspecifier.com/wp-content/uploads/2019/06/building-specifier-logo.png
Lyn
2020-08-10 15:39:06
2020-08-10 15:39:06
LOW COST, RISK-FREE, CARBON CAPTURE SOLUTION