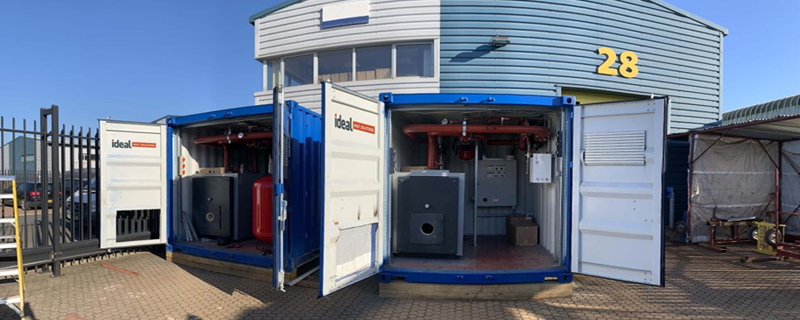 Healthcare and education buildings which will be undergoing boiler repair in the coming months will encounter two unfortunate challenges: poor weather and the coronavirus. With the reliability of electrical and gas supplies put to question, it is important to consider effective temporary measures, as part of a contingency plan, that will assure people's health and wellbeing will not be put at risk. Temporary heat provider, Ideal Heat Solutions, explains why it is important to utilise impermanent solutions and have a disaster plan in place on sites where health and safety is the main priority.
A supplier such as Ideal Heat is reactive and flexible to the individual needs of education and healthcare facilities who need temporary boilers immediately. Whilst we are always on hand to deliver heat when people need it, in order to bring a site back to its normal function in no time at all and to prevent any unforeseen problems, a contingency plan is the answer. With the onset of colder days ahead of us, this level of assurance – that you can get temporary heat pretty much immediately – pays dividends.
Let's take a care home as an example. If for instance, the site is to have an upgraded boiler room in the new year, have they considered what might happen should the old boiler break in the meanwhile? In this case, how will a contingency plan help?
With a disaster plan, the site would not only ensure temporary heat could be delivered quickly, it assesses or surveys, how that heat can be installed in the safest way. Every building is different, and the design and sensitivity of healthcare facilities is no exception. From access requirements to the need for enabling works, a contingency plan will ensure all bases are covered and nothing's missed, so that when the heat is required, installation teams can turn up to site and get it back up and running in a swift timeframe.
It is always worthwhile to highlight which risks have to be controlled, to see what and who will be affected in a worst-case scenario. By pinpointing risk, it will be clearer as to why a contingency plan is needed in the first place. Also bear in mind the risks that are insurable. Always have the necessary financial protection in place to ensure nothing falls between the cracks.
With health and wellbeing critical in education and healthcare facilities now more than ever, rest assured that in an emergency, temporary heat as part of a comprehensive disaster plan can be the hero this winter.
https://buildingspecifier.com/wp-content/uploads/2021/06/IDEAL.png
320
800
Lyn
https://buildingspecifier.com/wp-content/uploads/2019/06/building-specifier-logo.png
Lyn
2021-06-17 09:18:16
2021-06-17 09:18:16
KEEP THE HEAT ON IN CRITICAL INFRASTRUCTURE