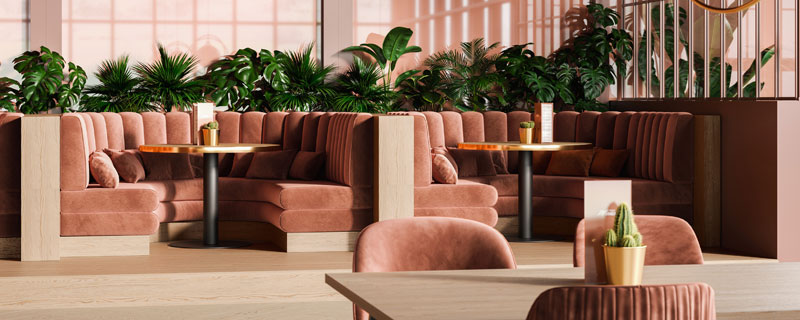 Formica Group, the world's leading and original creator of laminates, has launched a striking and sophisticated new collection, drawing inspiration from the natural world to create a range of complementary palettes.
The Formica® Collection introduces 15 new plain colours, 34 new wood patterns, and eight new Plus Colors in four premium finishes, addressing a growing trend in design that brings natural influences, colours and patterns into our interiors.
Nina Bailey, European Design Lead for Formica Group explains: "The new collection encompasses a sense of organic sophistication. Both the new colours and woods resonate with current culture and the ongoing trends for natural and earthy interior environments, combined with the move towards artisan design and the handmade approach."
For the past two years as the world shut down, people adapted to living their lives almost entirely from home. Working, shopping, exercising – even online doctor appointments – were conducted from the comfort of our living rooms. People sought comfort and reassurance from their surroundings, resulting in an interior design trend for indoor plants, and colours and textures derived from nature.
Now, as the world reopens, commercial, hospitality and leisure spaces are embracing so-called biophilic design – incorporating nature and natural inspiration into interiors – as they welcome back employees and entice customers into their stores, hotels, restaurants and other public spaces.
Nina agrees: "It was important to us that our new collection evoked a sense of calm that the natural world provides – even our richer colours are deeply connected with organic hues.

"Redefining commercial interior design is where we excel, and as retail, hospitality and offices reopen, this is a golden opportunity to rethink how those spaces are used and presented.
Introducing the new collection:

Plain colours
"There are three series in the new plain colour additions – Greens, Reds and Night, and one single colour, Brite White," explains Nina. "The earthy, grounding colours bring the outside in, and range from light blush terracotta to the deepest blue/black. These shades are uncompromisingly rich, luxurious and elegant. Our Brite White addition is already a firm favourite around the world, and we're excited to add it to our collection here in Europe."
Plus Color
 It is "the ultimate laminate tool box for interior designers, providing the chance to experiment with colour and texture in multiple ways," explains Nina, "the range taps into many core trends, such as tone on tone palettes and the tactile approach to sensory design. The addition of eight new on-trend colours to the Plus Color range, in a selection of premium finishes that tap into texture trends for rhythmical repeats, matte soft touch and glossy finish options adds sophistication and grounding tones ideal for multiple uses and sectors."
Woods
Nina comments: "The wood additions to the collection link us to our immediate surroundings, with a focus on local European species, such as Oak, Ash, Walnut and Elm. As we learn to appreciate our habitats, we want to introduce its natural beauty into indoor spaces. Moving towards greyed and desaturated tones of woods in both warm and cool tones gives our woods palette a beautiful variety and balance of tone and colour."
The new Formica Collection recently launched in the UK at Formica Group's new flagship showroom in London. The showroom charts the company's history and rich pedigree in interior innovation, and is a hub for architects, designers and specifiers to learn how to incorporate Formica® laminate into projects.
To see the new colour palette and wood finishes for yourself,
book a visit to Formica Group's showroom by visiting:
https://buildingspecifier.com/wp-content/uploads/2022/05/formica5.jpg
320
800
Lyn
https://buildingspecifier.com/wp-content/uploads/2019/06/building-specifier-logo.png
Lyn
2022-05-11 12:36:58
2022-05-11 14:02:41
Biophilic design: the new colour collection from Formica Group has it covered