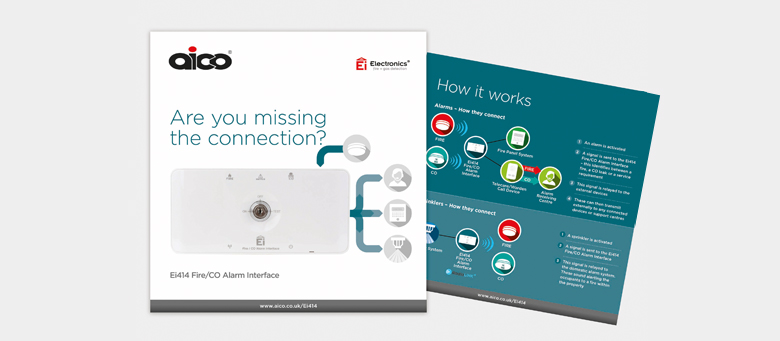 Aico releases new information on part 6 and part 1 fire alarm system integration.
Launched in 2014 and immensely popular in the social housing sector, the Ei414 Fire/CO Alarm Interface from Aico provides a cost-effective, convenient means of interconnecting Aico Smoke and Carbon Monoxide (CO) Alarms to third party life safety systems such as Fire Panels, Telecare Devices and Sprinkler Systems. To help clarify the most popular connection options, Aico has introduced a new dedicated brochure, 'Are you Missing the Connection?'
Most properties now have Fire Alarms – and many have CO Alarms, but these systems mostly work in isolation. The Ei414 Fire/CO Alarm Interface provides a dedicated connection between these alarms and third party life safety systems, enabling an emergency signal to be transmitted directly to that system if fire or CO is detected.
The new Aico brochure explains how the Ei414 works and provides an installation overview, showing just how simple it is to install the Interface. It looks at the three most common safety systems to connect to – Fire Panels, Telecare/Warden Call Systems and Sprinkler Systems – using clear graphics to help demonstrate the benefits and the system set up. For example, one of the most widespread uses of the Ei414 is to integrate a BS5839 Part 6 Fire Alarm System with a Part 1 panel based system installed in communal areas of a property. The Ei414 can be used to maximise safety by ensuring the communal alarm can be heard within each property, but without allowing individual flats' alarms to activate those in the communal areas or within other tenant's homes. This solution has proven popular in homes in multiple occupation (HMOs) and sheltered accommodation across the UK.
The Ei414 Fire/CO Alarm Interface can be powered directly from the mains or from a 12-24V DC supply and has built-in tamper-proof rechargeable Lithium Cells which will power the device in the event of any mains failure. Exceptionally easy to use, it comes with a removable key with three settings – On, Off and Test (with the Off setting being particularly useful if a property becomes vacant) – and LED indicators for visual confirmation of mains power and fire or CO alarm activation.
To obtain a free digital or postal copy of Aico's 'Are you Missing the Connection?' Ei414 brochure, please register at www.aico.co.uk/publications. Information on the Ei414 is also available on Aico's relaunched website, including a step by step guide on domestic alarm integration in the new Innovation and Technology area of the website. This new section has been introduced by Aico to provide easy to understand overviews of the new technologies developed by Aico and incorporated across a wide number of products.
A wholly owned subsidiary of Ei Electronics, Aico is the market leader in residential Fire and CO protection in the UK. All alarms are designed and built in Ireland specifically to meet the UK standards and regulations. With more mains powered domestic Smoke Alarms installed in the UK's social housing than any other manufacturer, Aico is tried, tested and trusted.
https://buildingspecifier.com/wp-content/uploads/2016/12/Aico-BS-ARTICLE.jpg
341
780
Product News
https://buildingspecifier.com/wp-content/uploads/2019/06/building-specifier-logo.png
Product News
2016-12-16 11:16:01
2016-12-16 11:16:01
Are you missing the connection?