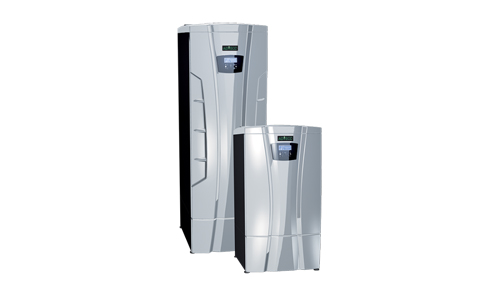 A range of compact commercial semi-instantaneous gas condensing water heaters
Perfect for applications requiring direct contact with soft, softened and chlorinated water
Highly efficient modular design offers continuity of service in one appliance
Commercial hot water and heating specialist Adveco, announces the AD range. A new generation of sleekly designed, modulating commercial floor-standing gas condensing water heaters to be used with a buffer for high demand semi-instantaneous hot water applications in sports & leisure centres, hotels, spas, schools, stadia, and large commercial buildings.
Bill Sinclair, technical director, Adveco said, "The titanium-stabilised stainless-steel construction of the AD range's heat exchangers is the perfect response to counter the concerns of corrosion in soft, or softened water applications. Compact, lightweight yet still powerful, the AD's patented space-saving design makes it equally applicable to both new projects or renovation work where a lack of space would traditionally stall or quickly drive up costs of a project."
With each water heater composed of one to four 70 kW heat exchangers, the AD range offers appliances from 70kW up to 280 kW. This approach optimises the supplied output (up to 160 litres/minute) ensuring maximum efficiency when providing DHW. Models with multiple integrated heat exchangers offer load balancing for optimal long-life operation and inbuilt redundancy guaranteeing continuity of service.
Tough and efficient, AD water heaters are all equipped with premix burners made of Fecralloy metal fibre for large modulation range with excellent functionality at extremely high temperatures. Using a premix burner ensures the AD requires less gas, making it more cost-effective, plus reducing harmful NOX and CO emissions. The AD's heat exchangers will also work in direct contact with chlorinated mains water.
The AD range can be configured to operate in a cascade of up to eight water heaters. The AD's controller provides full temperature control and self-check maintenance functions. The controller also accommodates 0-10 input, MODBUS communication, and alarm output for seamless system integration.
Additional information
Five-year warranty on AISI 316Ti heat exchangers
Compact floor standing arrangement: AD 70T & AD140T H1180 x W600 x D945mm / AD210T & AD280T M1880 x W600 x D896mm
High maximum run pressure up to 11 bar
Low emissions, built with Class 6 technology for NOₓ at 27 mg/kWh GCV
Available for natural gas or LPG
Acid condensate neutraliser included
Ideal for soft water applications. Hard water areas over 150ppm require use of a water softener down to 100ppm.
Supports standard flue systems using low cost 110-160 mm diameter PP
Adveco – Expertly engineered for you. Visit www.adveco.co
https://buildingspecifier.com/wp-content/uploads/2020/09/adveco.jpg
300
500
Product News
https://buildingspecifier.com/wp-content/uploads/2019/06/building-specifier-logo.png
Product News
2020-09-10 08:31:50
2020-10-05 09:31:27
Adveco AD: Tough, Highly Efficient Commercial Water Heating