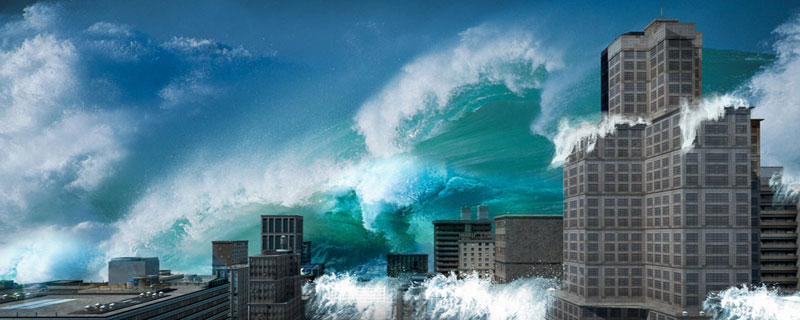 Britain is being hammered by wind at the moment. Storm Franklin, which hit the UK on Monday, brought hurricane-force winds and flooding in the wake of the devastating Storm Eunice, causing travel mayhem and power outages over most of the country. During this windy period, Buildingspecifier.com Editor Joe Bradbury takes a look at the interaction between wind and skyscrapers in our built environment.
Hundreds of people were told to flee their houses in south Manchester on Sunday night, while thousands of homes remained without power as a result of the worst UK storm in decades. Franklin brought wind gusts of up to 80 mph, resulting in two severe weather warnings in effect in south Manchester, indicating a life-threatening situation, as well as over 300 flood warnings and alerts across England, Scotland, and Wales.
According to a study published in the journal 'Nature Climate Change', wind speeds are increasing over the world, which is excellent news for renewable energy production – at least for the time being. However, wind also causes much destruction and can be a blight to the construction industry overall.
Winds have been rising quicker across most of North America, Europe, and Asia since roughly 2010. The global average wind speed has increased from roughly 7 mph to about 7.4 mph in less than a decade. This amounts to a 17% increase in potential wind energy for the average wind turbine. How does this challenge our built environment?
The effect of wind on skyscrapers
Skyscrapers are obviously built with wind in mind. Many of them can sustain high force winds for prolonged periods of time, with safety features built in to reduce and damages that may occur in a storm. However, they do affect the direction of wind, and this in of itself can cause many problems.
Although skyscrapers are among the most recognisable structures in modern cities, they can have a negative impact on local wind patterns. Skyscrapers create two types of wind disturbance, which when combined result in high wind speeds at street level.
The downdraught effect occurs when a single building is hit by the wind directly in the face, causing it to stretch out in all directions. The wind shifted downward towards the street speeds rapidly since it is constrained to small gaps between buildings.
When multiple tall buildings are built along both sides of a street, channelling or funnelling develops, emulating a natural canyon. High wind speeds, turbulence, and noise result as a result of this.
Skyscrapers can cause wind disturbance, making it harder for pedestrians to walk, and fast wind can also chill people in cold weather. Strong winds at street level can also knock down signs and other things with a big frontal area, sending them flying at tremendous speeds. This has been responsible for both casualties and property damage. Therefore, on-site weather and wind monitoring is critical for safety.
The Walkie Talkie, or 20 Fenchurch Street Building, is a massive 37-story tower with 660,000 square feet of office space, 23,000 square feet of retail space, and a rooftop garden. The building is known for the windy microclimate it creates around its base, which is due to the significant downdraught effect caused by its design.
Workers have fallen down, food trolleys have been overturned and signs have been dislodged from neighbouring buildings as a result of the wind disruption around the Walkie Talkie. Furthermore, the structure produces a loud whistling sound and required the installation of sunshades to reduce glare from reflected sunlight.
The glare was apparently so intense that it created localised heating that damaged parked vehicles.
Skyscrapers are also prominent in New York City, but their downdraught impact is mitigated by the city's vast streets and avenues. London, on the other hand, still has many small mediaeval alleyways that result in a more severe downdraught effect surrounding towering buildings.
The 32-story Bridgewater Place, Leeds' tallest building, has a noticeable downdraught effect as well. Since the building's construction in 2007, high winds have caused numerous mishaps resulting in injuries.
How to reduce wind disruption around skyscrapers
According to the City of London Corporation there have been many cases where wind studies for high-rise construction underestimate wind conditions on the street after the project is completed. So, more accurate tools and data are needed to plan for the wind effect of tall buildings.
According to field evidence, the downdraught effect is worse when a building has sharp corners and is mitigated somewhat when a structure has smooth shapes. The Gherkin is a building that provides an example of this: although it is 41 storeys tall, its rounded shape results in minimal wind disruption compared with the Walkie Talkie.
Weather monitoring systems can be used to analyse wind conditions in the streets around tall structures, and the data acquired can be utilised as a reference when developing future projects or while they are being built. A 'live' monitoring solution can provide automatic warnings when wind conditions on the street are severe, allowing sensitive operations like building activity to be suspended promptly.
In summary
Although sometimes an unyielding beast, wind holds enormous potential. Wind energy is a popular, renewable energy source that has a far lower environmental impact than burning fossil fuels. Many individual wind turbines are connected to the electric power transmission network to form wind farms, which generated almost 1600 TWh of power in 2020, accounting for nearly 5% of global electrical generation and 2% of global energy consumption.
New onshore (on-land) wind farms are cheaper than new coal or gas plants,[7] but expansion of wind power is being hindered by fossil fuel subsidies. Analysts say it should develop far quicker – by more than 1% of annual electricity generation – to help fulfil the Paris Agreement goals for limiting climate change.
Perhaps there is even more untapped potential blowing past our windows, who knows? Until then, the construction industry is forced to contend with and make allowances for, the increasing number of storms in Britain today. Stay safe… and if you are the owner of a high rise building, ensure you have the correct wind monitoring procedures in place.
https://buildingspecifier.com/wp-content/uploads/2022/02/BSC-ARTICLE-22.02.22-1.jpg
320
800
Lyn
https://buildingspecifier.com/wp-content/uploads/2019/06/building-specifier-logo.png
Lyn
2022-02-21 16:36:09
2022-02-21 16:36:09
Wind vs. skyscrapers