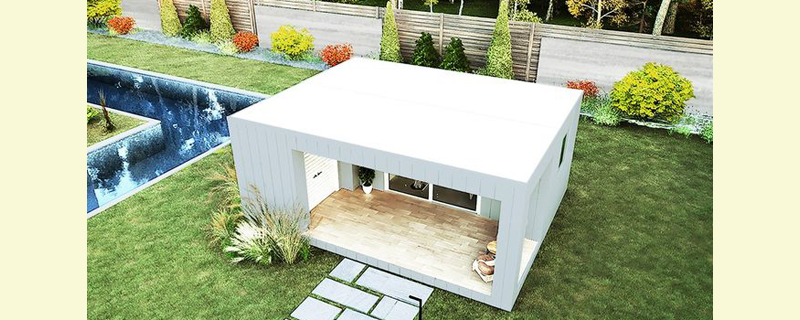 Can shipping container homes solve the US housing demand
House prices in the US are skyrocketing. Low mortgage rates and Covid have driven the demand but supply is nowhere near meeting that demand, the discrepancy resulting in a further spike in the ever-increasing values.
We are seeing the same pattern in the UK.  In terms of patterns it doesn't seem that long ago that a world financial disaster, which can be laid firmly at the door of the US banks precipitated a major fall in house values. Fool hardy lending and manipulation of funds instigated by greedy individuals, precipitated a financial crisis that lead to US house values toppling inexorably downward, as they did so the financial tsunami washed over the rest of the world. It has often been said that the housing market is the barometer of this countries wealth; we can only hope that we are not seeing the beginnings of a high temperature.
One of the key factors in all this is supply, also a major factor in our housing crisis. We have often heard of the quirky homes created by using shipping containers for their outer shells. However this US company seems to be taking the idea to a new level, we thought our readers might like to hear what Daniel Croft CEO of Giant Containers, a global supplier of modified modular and prefabricated shipping container structures, has to say about 'Shipping Container' real estate.
Modular Real Estate Could Solve Limited Space Issues Caused By The Pandemic
Larger-than-life Legos, a twist on tiny houses, upscale up cycling; at the end of the day, a relatively new building method in housing and property structures starts with a plain, steel-shipping container.
Who would've thought that a cargo container meant for the slow boats from China would appeal to anyone for a guest house, much less a modern luxury home, but indeed, it does! From she sheds and granny pods to pop-up office spaces and modular multi-story homes, shipping containers turned modular buildings are popping up all over the globe.
For those who think out-of-the-box about housing solutions, containers and prefab modular building products appeal to many for affordability, space-saving qualities, less environmental impact and expansion potential.
Pandemic restrictions have paved the way to prefab and modular construction to accommodate remote workers who need either an isolated workspace in the backyard or a quick home extension, creating extra space as we spend more time at home. The growing demand continues to gain traction in the real estate market because of the troubled economy. People, who recently escaped urban areas during the pandemic, longing for some extra space, have been disappointed with skyrocketing home prices, especially for single-family homes on individual lots. Modular builds, using containers and other prefabricated structures, are relatively inexpensive when compared to traditional construction and take very little time to build. Custom container homes give homeowners modular, industrial design without dealing with the logistics and renovation of used cargo containers. They can typically be done in a range of budgets and quickly. Homeowners can have a modular studio with a kitchen and bath ready in less than 12 weeks.
Based on the growing demand for affordable housing, our company, Giant Containers, amended our business model — once primarily focused on creating life-long experiences and experiential marketing installations for some of the world's largest brands, we launched an entire division focused on creating sustainable real estate. Before this, our in-house staff of engineers and architects spent over a decade researching the benefits of container houses. My team used shipping containers to assemble prefabricated modular homes, unique swimming pools and Canada's first retail center made entirely out of shipping containers. It was only a matter of time before municipalities and governments across North America realized the benefits of prefabricated homes and started building large-scale residential buildings from containers.
Even prior to the pandemic, modular builds solved an array of housing quandaries. The College of Idaho in Caldwell, Idaho, experienced a housing shortage in 2019 and had to get more student housing, fast. Built by a local company, two new dorms were made from 36 decommissioned shipping containers and are the first of their kind anywhere in the United States. KTVB reported that the design incorporated several key energy-saving components throughout the buildings, making them more energy-efficient than traditional construction.
Similarly, the city of Sacramento, California, struggled with solutions for people without housing. They also turned to contractors for ideas, turning containers into housing units quickly, saving lives and money.
Architect Peter DeMaria has been designing cargo container-based projects since 2004 and he is credited as the first architect to adapt a shipping container into a building solution that meets U.S. building code standards. He believes that reusing cargo containers is helpful to the planet. However, putting down a container home or workspace is not without its challenges, particularly when it comes to obtaining the permit. Before you begin making solid plans, find out if this sort of structure is allowed in your community or neighborhood. According to DeMaria, potential container homeowners need to be patient. It can take six to nine months to receive such permits. An additional consideration: containers have to be craned into place — but so do some giant roof trusses for large homes.
Decommissioned cargo containers must also be reinforced for occupancy, especially the floor and adjacent walls when another unit is attached. They have to be retrofitted and code-compliant for utilities. All of this adds to the cost, but you're still not into the six-figure or more range of an ordinary home.
Building a home of any type faces drawbacks. Despite the sometimes-bumpy path to completing a container building, the strengths of 'cargotecture' will likely pay off for generations to come.
Source: Forbes
https://buildingspecifier.com/wp-content/uploads/2021/02/BSC-1-17.02.21.jpg
320
800
Lyn
https://buildingspecifier.com/wp-content/uploads/2019/06/building-specifier-logo.png
Lyn
2021-02-17 09:18:38
2021-02-17 09:18:38
US HOUSE PRICES BOOM – BUT SHOULD THEY FEAR BUST