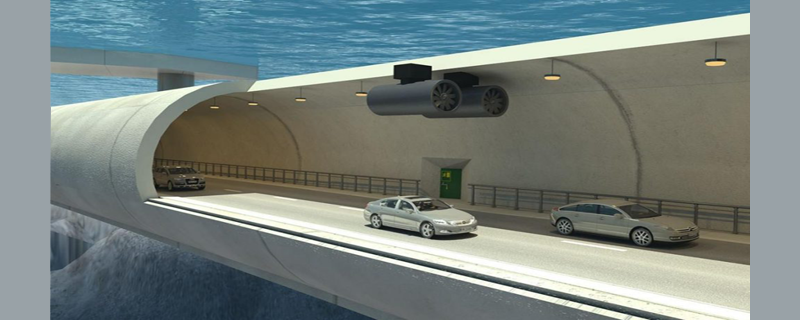 Irish Sea link 'unworkable in isolation'
An Irish Sea link connecting Northern Ireland with Great Britain "is unworkable in isolation", according to transport thinktank Greengauge21.
In response to Sir Peter Hendy's interim report on Union connectivity – which recommends a full feasibility study of a fixed Irish Sea link – Greengauge21 has called for a raft of transport upgrades either side of the Irish Sea in order to facilitate a bridge or tunnel.
Among its suggestions, Greengauge21 has called for a new electrified railway between Stranraer and Carlisle as well as "fast rail onward connections" to the rest of the country.
"Just as was found when the Channel Tunnel (Eurotunnel) was built, a cross-channel tunnel is unworkable in isolation," Greengauge21's report states.
"Kent needed the completion of the M2 and M20 motorways and the construction of the channel tunnel rail link (HS1) for it to work properly."
However, instead of building new motorways to the tunnel, Greengauge21 recommends better rail connections – to support its previous proposal of a rail tunnel in the Irish Sea. It claims that by building fast rail links to a terminal would remove the need for a 160km new motorway across Dumfries and Galloway.
"A new electrified railway line is needed (between Stranraer and Carlisle) to feed a tunnelled rail link across the Irish Sea.
"As well as through freight trains and fast passenger services, this could be used to provide an extended Euro-shuttle style operation, allowing HGVs and cars to transit under the Irish Sea and continue across south west Scotland.
"A terminal would be provided where the rail line meets the M6/A74(M). South West Scotland could be similarly spared the ravages of increased traffic levels."
It adds: "Its virtue is that it takes away the need for a 100-mile stretch of motorway across Dumfries & Galloway and opens the possibility of both faster transit times and significant carbon reduction."
Hendy will submit his final Union Connectivity review in the summer. Alongside a feasibility study for the Irish Sea link, Hendy will also look at ways of improving transport connections between England, Scotland and Wales.
As well as building a new railway to the proposed tunnel, Greengauge21 suggests upgrading existing rail lines to provide faster journeys from London to Belfast.
"If the fixed link is also to provide an attractive alternative to flying between Northern Ireland and English & Scottish airports, then fast rail onward connections are needed," the report states.
"One aim would be a sub-4 hour rail journey time between London and Belfast. This is only achievable if work proceeds to speed up the Crewe-Carlisle section of the West Coast Main Line through northern England, which might well happen in pursuit of 3 hour journey times London-Glasgow/Edinburgh.
"So this too is a pre-requisite for success, just like the cross-Galloway rail line."
Greengauge21's original submission to the Union Connectivity review also calls for upgrades to existing Anglo-Scottish rail lines, electrifying the Holyhead-Chester-Crewe railway line and completion of the Borders Railway.
Source: New Civil Engineer
https://buildingspecifier.com/wp-content/uploads/2021/03/BSC-22-17.03.21.png
320
800
Lyn
https://buildingspecifier.com/wp-content/uploads/2019/06/building-specifier-logo.png
Lyn
2021-03-17 14:10:08
2021-03-17 14:10:08
Sea Link needs Connectivity