Rinnai's H3 range of products which stands for Hydrogen / BioLPG ready, Hybrid Heat pumps and Solar Thermal and finally a wide range of LOW GWP heat pumps, includes the Infinity hydrogen blend ready and BioLPG ready continuous flow water heaters which are stacked with a multitude of features that ensure long life, robust & durable use, customer satisfaction and product efficiency.
The Rinnai Infinity 11i (H541 x W373 x D173) 17i (H541 x W373 x D173) and 17e are ideally suited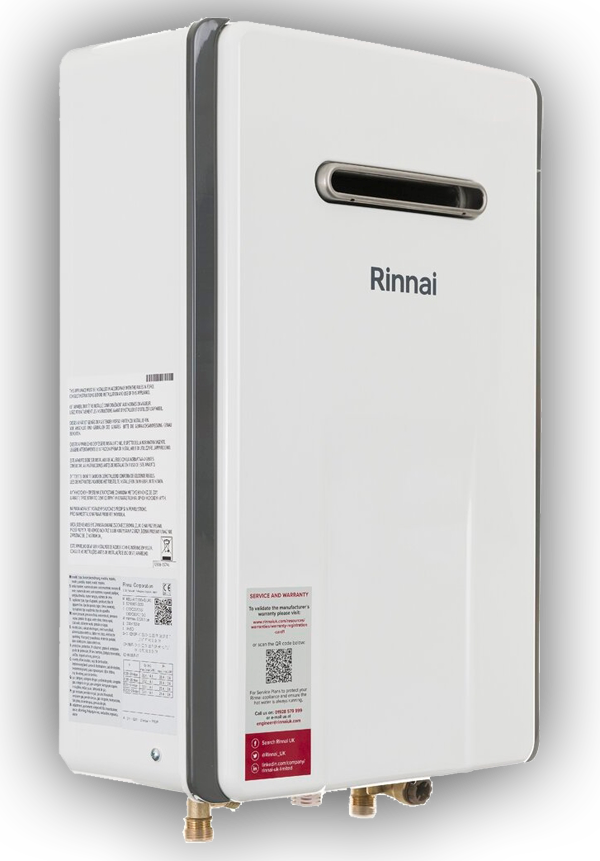 to any and all domestic properties or small businesses that need instant, economic and temperature-controlled volumes of hot water. The temperature range for all three models is between 37-65 degrees centigrade making them ideal for comfortable ablutions and heavy-duty high volume commercial cleaning for instance in restaurants where high temperature can cut through oil and grease.
The Rinnai Infinity 11i (11i Litres per minute) and 17i (17i litres per minute) are hydrogen ready at 20% hydrogen-methane blending and is Ultra Low-NOx surpassing ECO-DESIGN requirements. This model is internally wall mounted and is easily & quickly installed due to its light weight (14kg) and simple wiring.
Rinnai's Infinity 11i and 17i include inbuild frost protection and push fit flue system. The system operates on demand with direct electronic ignition, ensuring that the continuous flow water heater only fires when hot water is needed, providing temperature accurate hot water instantly. In comparison traditional water storage systems will keep a body of water heated for when it is needed resulting in unnecessary energy usage and cost.
Rinnai Infinity 11i and 17i models can be delivered to site in Hydrogen Blends ready natural gas, LPG and BioLPG variations ensuring that the units can cater towards hard-to-reach industries and off-grid properties.
The final model in this range is the Infinity 17e external continuous flow water heater, the externally mounted 17i internal model in terms of flow rate and diminutive, lightweight design. External water heaters give the added benefit of relatively unconstrained installation caused by flue citing issues. The external variants are used widely in agriculture, glamping pods and leisure settings.
Rinnai's Infinity models are designed to reduce energy usage and all related costs throughout a product's working lifecycle. The products are designed to enhance efficient performance, product durability and reduce costs across all aspects of purchase and product labour.
---
For more information on the RINNAI product range visit
---
RINNAI H3 PRODUCT ROADMAP TO LOWER CARBON AND NET ZERO DE-CARBONISATION
Rinnai's product and service offering is based on H3- Hydrogen, Heating and Heat Pumps –  which allows any site in either residential or commercial sites to maximise the energy efficiency and performance in striving for NetZero and Decarbonisation. Additionally, Rinnai is developing and introducing electrical formats to all existing product ranges within the next few months. Rinnai's new "H3" range of products includes a wide selection of commercial heat pumps as well as hydrogen blends-ready and hybrid hot water heating systems.
Rinnai is a world leading manufacturer of hot water heaters and produces over two million units a year. The company operates on each of the five continents and the brand has gained an established reputation for high performance, robust cost efficiency and extended working lives.
Rinnai's commercial and domestic hot water products offer a limitless supply of instantaneous temperature controlled hot water and all units are designed to align with present and future energy sources and accept either natural gas or hydrogen gas blends. Rinnai units are also suited for off-grid customers who require LPG and BioLPG or rDME.
Rinnai units are UKCA certified, A-rated water efficiency, accessed through multiple fuel options and are available for purchase 24/7, 365 days a year. Any unit can be delivered to any UK site within 24 hours. System design services are available if needed and cost comparison services are accessible to all customers who require further cost detail.
Rinnai's Innovation Manifesto clearly outlines the path to carbon neutrality and maintains a pledge to fully decarbonize company operations by 2050. Rinnai will further support the global clean energy transition by introducing a wide variety of domestic heating options across multiple energy vectors.
Rinnai is committed to decarbonisation. Rinnai's water heating products are all hydrogen-blends ready NOW including the world's first 100% hydrogen powered water heater. Rinnai products also accept BioLPG capable of delivering NetZero carbon emissions. Rinnai offer comprehensive training courses and technical support in all aspects of the water heating industry. More information can be found on Rinnai's website and its "Help Me Choose" webpage.
https://buildingspecifier.com/wp-content/uploads/2023/01/RINNAI-02.03.png
320
800
Lyn
https://buildingspecifier.com/wp-content/uploads/2019/06/building-specifier-logo.png
Lyn
2023-01-31 22:08:17
2023-01-31 22:08:17
RINNAI – HOT WATER ON TAP – SAVE ENERGY, SAVE MONEY