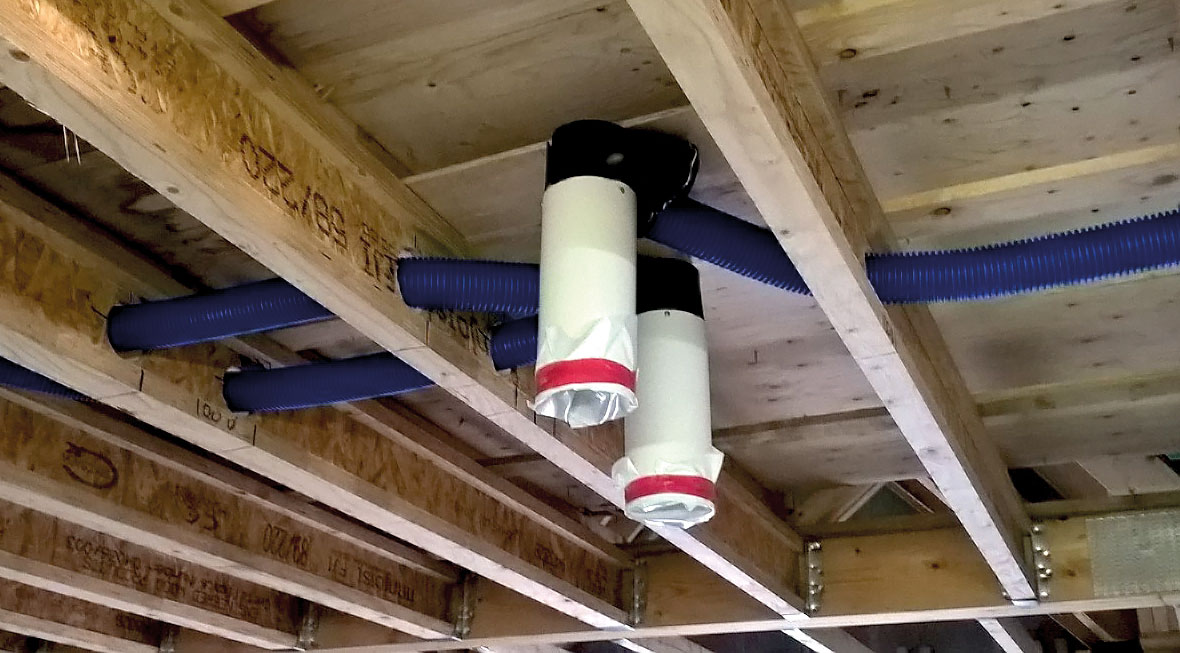 Polypipe Ventilation's highly efficient, Silavent CMX Mechanical Extract Ventilation (MEV) units with Domus Radial duct systems, have been specified for a new retirement housing development in Fleet, Hampshire.
Keble Court in Church Crookham is owned by Anchor, England's largest non-profit provider of housing and care for older people. When completed, it will consist of 72 luxury apartments and one guest suite over three storeys, including communal facilities. All apartments will come with high quality fixtures and fittings as well as carefully considered design features, making life easier for older people. These include continuous Mechanical Extract Ventilation (MEV), to improve indoor air quality and environmental comfort by reducing humidity within the dwelling.
The installation of Polypipe Ventilation's Silavent CMX and Domus Radial ducting is being carried out by building service engineers Heatcare Limited. Heatcare is a long standing Polypipe Ventilation customer and regularly uses its award winning ventilation and ducting systems on projects nationwide.
For the Keble Court development, Heatcare specified the Silavent CMX MEV system due to its performance and slim-line design. At just 125mm in depth and 3.25kg in weight, the CMX is one of the most compact and lightweight MEV units on the market, enabling it to be easily installed into a central location such as a loft, cupboard space or even small ceiling voids. The CMX's versatile design also means that these units can be easily installed horizontally or vertically, ensuring ease of installation in limited or awkward spaces.
Polypipe Ventilation's Domus Radial ducting system was chosen to work with the CMX. Richard Bamford, Heatcare Contracts Manager, explains why – "the building is constructed via a fusion frame system, so the Domus Radial semi-rigid ducting was the most appropriate approach to the install – thus saving space. In addition to this, the system is a lot more cost effective on application, in regards to both labour and materials, ensuring a better overall solution in comparison to the other options we considered."
Unlike traditional ducting systems, Domus Radial duct systems serve each room vent (air valve or grille) by singular or dual Ø75mm semi-rigid duct runs which connect directly to a central distribution system, splitting the air from a slim-line, compact Radial manifold. Domus Radial has been specifically designed for use within whole house ventilation systems and whilst it is much easier to design and install, its benefits also include less air leakage, increased air flow, easier installation and commissioning, as well as elimination of room to room cross talk and a reduction in air noise.
For Heatcare, product quality is only part of the story: "It is always great to receive a first class service where we can request certain specifications and receive a full design brief and optimal solution, as well as offering positive feedback where possible. With Polypipe, we have received this and more." states Richard. "The product happened to be the best solution on this particular contract and moving forward, it is definitely something we would consider utilising again on future contracts."
Silavent CMX MEV and Domus Radial systems have a deserved reputation for quality; supported by excellent technical support from a market leading manufacturer and designer. Polypipe Ventilation is well placed to offer immediate, practical solutions to Building Regulations Parts F & L. The company continues to provide differentiated solutions in the private and social housing sectors, transforming the way developers, specifiers, installers, distributors and home owners meet emerging environmental standards.
For more information please call 03443 715523 or email vent.info@polypipe.com
https://buildingspecifier.com/wp-content/uploads/2016/05/POLYPIPE.jpg
653
1180
Product News
https://buildingspecifier.com/wp-content/uploads/2019/06/building-specifier-logo.png
Product News
2016-05-17 13:28:25
2016-05-18 09:31:40
New retirement housing development to benefit from Polypipe Ventilation's MEV solutions