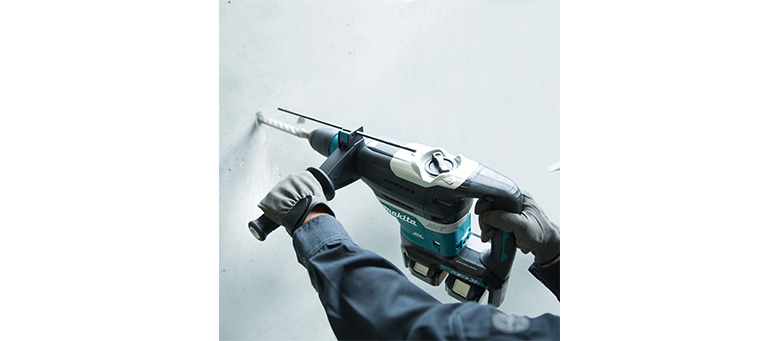 Makita has launched its first ever cordless SDS-MAX Rotary Demolition Hammer, featuring all the power and performance of a mains machine whilst benefitting from the freedom and manoeuvrability that a battery-operated tool has to offer. The mighty DHR400ZKU is powered by two 18v LXT batteries giving 36v power from the brushless motor for extended run-time and increased power.
As with the popular HR4013C mains machine, the new Makita DHR400ZKU Twin 18v SDS-MAX Rotary Demolition Hammer will punch a 40mm hole into concrete, will run up to 500rpm and will generate up to 2,900 blows per minute with 8.0 Joules of impact energy.
Makita's AVT – Anti-Vibration Technology – is featured in this model which gives the hammer drilling vibration rating – when hammer drilling into concrete – of just 5.0m/s². This rugged 2-mode machine – rotary drilling with hammer action and hammer action-only for chiselling – has the easy-to-operate mode change switch positioned conveniently on top of the motor body ahead of the vibration-reducing rear grip handle. With variable speed controlled by the grip trigger, and a constant speed control that can be set for constant running when chiselling, the DHR400ZKU can also be used with the trigger controlling chiselling for intermittent work. A further position of the mode control allows the bit angle to be set as required.
The DHR400ZKU also benefits from the new Makita Auto-Start Wireless System (AWS) which allows the tool to automatically connect to compatible Makita dust extractors. A unique chip will come with every machine that features AWS allowing the user to pair it up with the selected dust extractor. Once paired, the dust extractor will automatically start once the trigger on the hammer is pulled.
This new machine also has the Soft Start feature which accelerates the motor into action even if the trigger is pulled fully home from off. In drilling mode this reduces the sudden torque load on start up. When operating, the torque limiter connected to the side handle will cut the motor drive should the drill bit snag thus providing further operator protection. The soft no load function automatically cuts the motor speed during idling to reduce vibration generation which contributes to this hard-working Makita rotary hammer. An electric brake and useful LED job light are also featured.
The DHR400ZKU is available as a body only machine and comes with a carry case.
https://buildingspecifier.com/wp-content/uploads/2018/06/Mak-BS-ARTICLE.jpg
341
780
Product News
https://buildingspecifier.com/wp-content/uploads/2019/06/building-specifier-logo.png
Product News
2018-06-14 10:29:14
2018-06-14 10:29:14
New Makita Twin 18v (36v) 40mm SDS-MAX rotary demolition hammer matches mains performance