By 2025, it's estimated that one in six of all new cars worldwide will be electric. How will this affect the way we construct our built environment and what changes will need to be made to our existing infrastructure in order to accommodate the shift? Building Specifier's Joe Bradbury investigates:
The last four years have seen a remarkable surge in demand for electric vehicles in the UK – new registrations of plug-in cars increased from 3,500 in 2013 to more than 214,000 by the end of May 2019. There has also been a huge increase in the number of pure-electric and plug-in hybrid models available in the UK with many of the top manufacturers in the UK now offering a number of EVs as part of their model range.
Figures published by the Society of Motor Manufacturers and Traders (SMMT) each month show that electric car sales in the UK have risen dramatically over the past few years. While only around 500 electric cars were registered per month during the first half of 2014, this rose exponentially to an average of 5,000 per month during 2018.
By the end of 2018, almost 60,000 plug-in cars had been registered over the course of the year – a new record. This significantly improved upon the previous record, set in 2017, increasing it by more than 13,000 units. By the end of the year, plug-in cars as a proportion of total UK registrations reached 3.8%, and averaged over 2018 electric cars represented 2.7 per cent of the total new car market in the UK.
The electric car market continues to grow quickly, with more than 164,100 pure-electric cars on UK roads at the end of September 2020 – and over 373,600 plug-in models including plug-in hybrids (PHEVs).
Government are backing the shift towards electric vehicles, with the Department of Transport recently announcing a government boost of £50 million to accelerate the transition to electric vehicles. The Electric Vehicle Homecharge Scheme (EVHS), which provides up to £350 towards a charge point, has also recently been expanded to include people in rented and leasehold accommodation, and the Workplace Charging Scheme (WCS) will also be opened up allowing charities and small businesses such as B&Bs to benefit from funding, boosting access to EV charging in rural areas.
How will this affect our built environment?
The rising number of electric vehicles on our road will undoubtedly have an effect on the built environment. The infrastructure we are all used to would need to evolve with the changing times.
It is to be expected that petrol station numbers will gradually reduce or adapt to provide electric vehicle charging facilities. Coupled with this would be appropriate amenity services for drivers and passengers whilst waiting for their vehicles to charge. (Many major fuel companies are already adapting stations in anticipation of this.)
The service stations, roadside restaurants and hotels that line our motorways are all going to need to adapt to receive large numbers of clientele in electric vehicles and businesses will also need to consider installing charging points on site so that employees can charge their cars whilst they work.
The most notable change to cities will be the addition of charging points. Charging stations will become commonplace on car parks, municipal and multi-storey, private or public, outside supermarkets and restaurants etc. Since many potential electrical vehicle owners don't own their own garages or driveways, retailers will capitalise on vehicle charging a great way of securing regular, captive customers.
The UK government is also set to introduce new legislation whereby all new-build homes will need to be fitted with electric car chargers. This will have cost and technical implications if all new apartments have to have a charging point with their allocated parking spaces – and of course maintenance and management implications including how the electricity is paid for.
The local electricity infrastructure may very well need to upgrade due to the increased load of multiple electric vehicles charging, pushing development costs upwards and introducing a need for space for electrical equipment.
Needless to say, there will be much work that will need to be done and the construction industry stands to benefit greatly.
Speaking to Buildingspecifier Martin Fahey, Head of Sustainability and Mitsubishi Electric commented:

As we move towards a fully electric economy, with everything powered by energy from a renewable source, we will see electric cars become mainstream. This will require not only our homes, but also our communities and workplaces to change so that everyone can easily power their vehicles. It will also mean better power storage at home and at work, and we are already seeing advances in battery technology which will allow storage of energy from PV and from other renewable sources, that can then be re-used to power our lighting, cooking and air source heat pump heating … and of course, our cars.
The current limitations of our infrastructure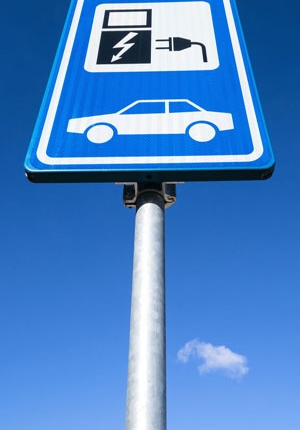 Unfortunately, analysis suggests that a "patchy" network of charging points is currently preventing British drivers from fully embracing the benefits electric cars, something the government have said that they plan to address going forward.
The RAC have repeatedly stated the current network is the main deterrents for consumers considering a swap to electric cars. Over 35% of local authorities have ten or fewer locations where drivers can plug in their vehicles, with wide variation across the country.
Out of 385 authorities, only three had 100 or more charging locations. Milton Keynes was found to be leading the way with 138, followed by Westminster with 131 and Cornwall with 115. Overall, two thirds of local authorities were found to have 20 or fewer. Only one charging location was identified in Merthyr Tydfil, Caerphilly, North Dorset and Hinckley and Bosworth in the dataset.
The Department for Transport says 80% of charging is done at home, but for drivers who do not have access to off-street parking access to charging points is essential.
A collaborative solution?
Lympstone resident Joel Teague recently launched Co Charger, a new platform enabling those who do have electric car chargers, whether motorists, businesses or community buildings to share them with neighbours who don't.
"Five years ago a neighbour in Lympstone convinced me, a card-carrying petrol head to get an electric car," explains Joel. "The car arrived but my charger was delayed and I found myself giving that same neighbour a few quid to use their charger once a week until mine arrived. It led to a lightbulb moment where I thought of all the people blocked from getting an electric vehicle because they live in a flat or terraced house and don't have anywhere to charge. It prompted me to launch Co Charger, a 'matchmaking' app connecting hosts with a charger with neighbours who want somewhere to charge, helping to create cleaner, greener neighbourhoods and fight climate change. Most importantly, it also means that those who would love to have an electric car will finally be able to buy one – confident in the knowledge that they can charge reliably and economically with a local host."
The Co Charger app is free to download and there are no subscriptions. Hosts can be private individuals or any organisation with an electric charger, such as a community centre, church hall or doctors' surgery.
Joel concluded that "easy access to EV charging should be for everyone – not just homeowners with driveways. Previously motorists in rented accommodation or in rural areas might have felt unable to transition to an EV, but this is a significant step towards ensuring that no-one is 'locked out' of the electric vehicle revolution. But this levels the playing field and recognises the importance of leaseholders, tenants and small businesses in helping their neighbourhood to go electric."
"It's great to see the government backing the installation of more charger points in rented and leasehold accommodation and in the car parks of small businesses. What can make these schemes even more effective is if a proportion of those charge points are shared – enabling
Motorists who live in flats and terraced houses to buy an electric car."
By 2025, it's estimated that one in six of all new cars worldwide will be electric.
In summary
A few short years ago it was almost fashionable to mock the warnings of where global warming might take our environment. Those who called for action were laughed off as fanatics with nothing better to do. However a new and worried generation now regards those once laughed at, not as fanatics but realists.
As a result the momentum for action to prevent is growing, almost equally in proportion to the fear that it may be too late for prevention.
Globally in 2018 transportation was responsible for 21% of carbon emissions and 15% of that could be immediately attributed to road vehicles. Not surprisingly the new reflection on the state of the planet is driving the market for electric vehicles and as it does, so increases the need for available power sources for the new green machines.
China has the largest population in the world and perhaps as a result, is also the biggest producer of carbon. It is a strange juxtaposition to note that in terms of its market take up of EV's, whilst it is nowhere near as great per capita as in other major countries, its provision of public charging stations has a ratio of one charging point per 9 vehicles, beating every country with the exception of the Netherlands.
If one chooses to take a positive spin on this factor it could be viewed as a willingness to prepare for the coming of the electric vehicle age. If that is the case should we look closer to home at our own provision, currently running at a ratio of one charging point per 32 vehicles, more than three times that of China.
Our vehicles are a further extension of the convenience evolution that has become part of our everyday lives, an evolution with the prime benefit of time saving, but what practical use are electric vehicle's if we have to hang around a public charge point, in line with 32 other vehicles and then wait another hour or more for the delivery of a charge that will get us to our destination? Perhaps the answer will be in preparation, and to that end would it not be sensible to build in charging points at the construction stage of all new homes, in the same way that we site a kitchen sink or any of the other modern home essentials.
https://buildingspecifier.com/wp-content/uploads/2021/03/BSC-ARTICLE-12.03.21.jpg
320
800
Lyn
https://buildingspecifier.com/wp-content/uploads/2019/06/building-specifier-logo.png
Lyn
2021-03-12 12:42:37
2021-03-12 12:42:37
How electric vehicle uptake will impact the built environment?