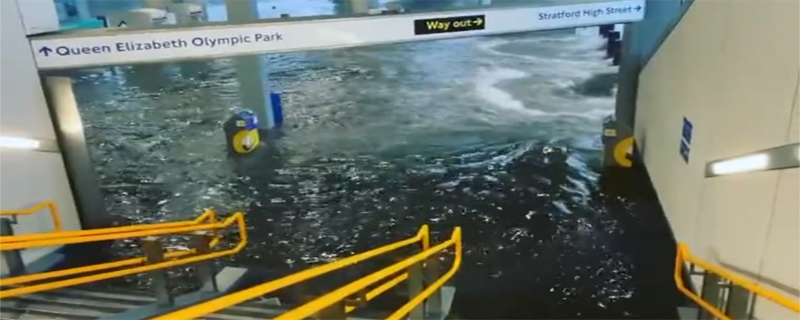 Does London have to learn to live with flooding?
London and other parts of the UK may have to learn to live with the impact of flash floods from increasingly torrential storms, flood experts have warned.
Speaking to NCE, Aecom lead on flood modelling and mapping Ruth Goodall said that climate change predictions mean that deluges will almost certainly become more common.
"The amount of rainfall [last month] isn't perhaps going to be that unusual going forward, and that storm event might be a one in two year storm if the worst of the climate change predictions happen," she explained. "London is going to have to learn to live with it, because it will happen again.
"In London it is about protecting the important parts of infrastructure that need to get back online quickly and educating people so that they stay safe.
"When you get a lot of surface water flowing across a city it is going to head straight for the underground, and the subsections of the DLR, straight for the underground power conduits and straight into the sewers.
"And it causes all sorts of sorts of issues because you just can't design an infrastructure system to take that amount of water in that short length of time."
The risks of surface water flooding are known to London's authorities. The mayor of London's risk register lists the likelihood of a major surface water flood as medium, and impact of surface water flooding at level 4, which is equal to an aviation crash, explosion at a fuel depot site, a radiation release overseas or a reservoir collapse. Only a few events, such an influenza-type pandemic are considered to have a higher impact.
Last week London mayor Sadiq Khan called a round table to discuss how to address the issues following the flood events in July.
WSP technical director Enrico Isnenghi said that the floods are almost certainly linked to climate change. "I was in South East London on the day of the flooding and I did not feel a drop of rain," he says.

Atkins head of water management Simon Leek said: "The challenge we have is that the roads infrastructure we have was designed for a lot of smaller [flood] events. The gullies and channels have get blocked up etc, and they just weren't there, the curbs etc on rules you know weren't designed for that amount of water."
Unlike fluvial or tidal flooding, which can often come with some kind of warning, be that hours or days, surface flooding from storms is almost instantaneous. The sheer volume of water pouring into a single area at one time is also not the type of flooding which can be alleviated by flood works upstream, which is one of the engineering solutions to fluvial flooding being implemented by the Environment Agency in other areas.
City Hall has invested £13M in green infrastructure projects to help London adapt to climate change, including £1.8M in 40 projects specifically addressing surface water flood risk. A further £4M is helping to tackle the climate emergency by reducing the risk of floods through the mayor's Green and Resilient Spaces Fun
Atkins was commissioned by City Hall to identify opportunities for retrofitting sustainable drainage systems across the entire Greater London area. Called SUDS Studio, the Atkins team mapped out 16 different types and drainage solution and cots for each type, this allowed the most cost-effective option to be identified and correlated with different climate change scenarios.
According to Leek, Atkins identified approximately 65ha of land which could be used for schemes to take surface water, be it retrofitting attenuation storage, implementing rain gardens, or installing more permeable membranes.
"We need to target where we invest the money and we need to find the right amount of money to resolve the issues as floods are happening on a more frequent basis," said Leek. "The challenge with an area like London is that you have so many impermeable surfaces, and also people are converting cellars now so there is a large amount of people living below ground level. We are looking to help people become more resilient so its a lot of work.
"In a design aspect, with all the recent flood events, coastal river and ground water flooding we may want to look at the design data that we use. We may need to consider only looking at data [such as average rainfall] over the past 10 to 15 years, rather than the data from earlier on.
"The climate is changing so quickly that the more recent data may be more meaningful. Do we change some of the design standard to reflect the changes in rainfall and changes to the climate."
The issue for the UK and many European countries is whether the cities, many of whom have medieval or even Roman origins, have the right designs to cope with the influx of rain in such a short space of time.
Goodall adds: "Infrastructure like Crossrail should have resilience and will almost certainly be designed with things like extreme weather in mind, but it is the older infrastructure which London has a phenomenally large and valuable amount of; retrofitting 100 year old tube stations is very difficult without compromise."
Goodall compares the issues London is facing with a project Aecom worked on for the Saudi Arabian city of Jeddah, which suffered from infrequent but deadly floods, particularly in 2011 which killed a number of people. She said: "In Jeddah there was massive desert-driven flooding, but money was no object [for flood schemes]. The system which has been built sits dry 99% of the time, but it is worth it because of the 1% of the time when they get a massive deluge. In Asia, where they deal with intense tropical storms they can design bigger pipes to deal with the storm, or in many places they let the roads flood, which is what used to happen in Jeddah."
London however poses a different problem, she says: "The cost-benefit ratio for London would never stack up, as replacing London's drainage infrastructure with something of a higher capacity such as a Thames super-sewer for flooding, the economics are just not going to be there compared to managing the existing infrastructure in a way that makes it more flood resilient."
The cost issue is one which both the mayor of London and other stakeholders will have to manage in their response to any increased risk of surface water flooding. As Isnenghi says, the benefits usually often far outweigh the outright costs for any scheme.
He adds: "The economic benefit for wider society [of flood schemes] clearly outweighs the costs, but while the costs are managed by specific stakeholders the benefits are for the wider community so it is difficult to link the two."
Despite the issues with finding founding, Isnenghi says that local authorities have the key role to play in acting on the problem. "It's fine to have local authorities responsible for service management.
"But they need to have the resources in terms of both number of people and also skills to be able to do their role and liaise with other stakeholders including the Environment Agency and water companies, they may struggle as they simply do not have the right resources in place."
Source: New Civil Engineer
https://buildingspecifier.com/wp-content/uploads/2021/08/bsc-09.08.21.png
320
800
Lyn
https://buildingspecifier.com/wp-content/uploads/2019/06/building-specifier-logo.png
Lyn
2021-08-09 08:49:54
2021-08-09 08:49:54
FLOODING:Benefits outweigh prevention costs