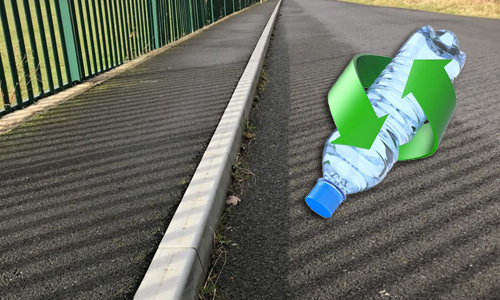 Successful trial of plastic sustainable road kerbs in Doncaster to become 'the norm'
#construction #construction industry #recyled plastic #sustainable #roadways#architects #local authorities #contractors #safety @durakerbUK
Doncaster Council has improved the safety of its highway maintenance by swapping traditional concrete road kerbs and drains for recycled plastic units designed by Durakerb, according to a report jointly produced by Doncaster Council's Highway Operations and Highway Asset Maintenance.
Made by green construction innovators, the eco-friendly construction products made from recycled plastic waste brought significant safety benefits to the workforce and are easily installed manually in accordance with social distancing guidelines.
Initial trial installation of new kerbing took place in February at sites including the North Bridge and Marsh Gate junction in Doncaster – a high stress area with typically high levels of HGV use and 'override' – after previous concrete units and restoration attempts had failed.

Following a full assessment over time, the highways team was so impressed by Durakerb's benefits that they decided to accelerate their use in both safety works and in smaller construction projects across the local area. The report recommended that council 'extends the use of the plastic kerbs to other suitable projects across the borough with a view to them becoming the norm rather than the exception'. The council is also now using Duradrains for road water management.
Concerns over health & safety in the construction industry have increased in recent years as the Health and Safety Executive (HSE) is continuously raising awareness of the dangers posed to workers. Recent data released by the HSE revealed that in the last financial year the number of deaths in the construction industry has increased by a third making it higher than any other sector1.
The lifting of heavy loads and use of machinery can also lead to the development of musculoskeletal disorders and Hand Arm Vibration syndrome (HAVS), as well as exposure to carcinogenic airborne silica released when concrete is cut. Durakerb minimises these hazards as being made from plastic, it is lightweight and can be cut with a hand saw allowing one-operative installation within the HSE guidelines and has a very low risk of silica exposure.
Phil Sutton, Managing Director at Econpro, the parent company of Durakerb, commented: "The trial in Doncaster is an excellent case study for Durakerb as it highlights the many benefits of the product, beyond its environmental advantages."
"The council's decision to continue installing the kerbs was primarily based on safety, something which is particularly important with the easing of lockdown and the maintenance of social distancing on site. We're hoping more councils will realise Durakerb's potential and adopt a similar approach in the near future."
https://buildingspecifier.com/wp-content/uploads/2020/07/PLASTIC-KERBS.jpg
300
500
Lyn
https://buildingspecifier.com/wp-content/uploads/2019/06/building-specifier-logo.png
Lyn
2020-07-30 17:58:05
2020-07-30 18:01:37
Doncaster Kerbs, Bouncing Back