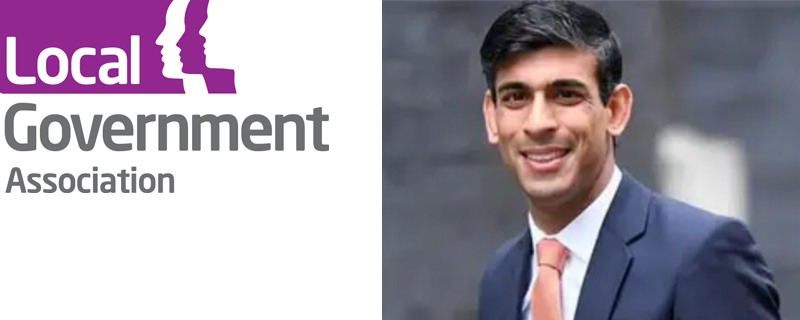 Responding to the announcement that Rishi Sunak MP is to become the next Prime Minister, Chairman of the Local Government Association, Cllr James Jamieson, said:
"On behalf of councils across England and Wales, I would like to congratulate Rishi Sunak on becoming our new Prime Minister. As a former Local Government Minister and Chancellor, the PM already understands the mounting pressures that the sector face and the funding that councils desperately need to ensure they can keep vital services running for the many people who rely on them.
"Across the country, councils are working hard to support residents with the cost of living; looking after our most vulnerable children and adults; building desperately needed homes; supporting children with SEND and providing accommodation to those fleeing Ukraine and Afghanistan.
"However, without certainty of adequate funding – and given the funding gaps they are seeing – councils will have no choice but to implement significant reductions to services including to those for the most vulnerable in our societies. In these difficult times, we all need to come together and work in the best interests of our residents. The Government needs to ensure councils have the funding to meet ongoing pressures and protect the services that will be vital to achieve its ambitions for growth and to produce a more balanced economy, level up communities and help residents through this cost-of-living crisis."
---
Greater Manchester Chamber Responds to Announcement of new Prime Minister
Responding to the news that Rishi Sunak is the new Prime Minister, Chris Fletcher, Policy Director at Greater Manchester Chamber of Commerce, said:
"We would obviously like to congratulate the new Prime Minister and, hopefully, we can now look forward to a period of much-needed stability and serious focus on tackling the increasing number of challenges that businesses and people are facing on a daily basis.
"After the abject failure of the previous PM and the last-but-one Chancellor when they created a maelstrom of costly havoc in the national economy, many see the new PM as having a much better handle on what is needed to start to address some of the many problems people are facing.
"It is vital though that all the focus isn't taken up by market reactions. Whilst they are important to the economy there are more fundamental issues that need addressing around skills, infrastructure, rising costs, energy and net zero that have felt, recently, like they have become secondary matters. It is however these day-to-day issues that most people care about and want urgent action on. The honeymoon period for the PM will be brief and hopefully we will see a positive plan quickly produced to get this country, its businesses and people, back on track in a fair and sensible way."
---
ECA reacts to Rishi Sunak's appointment as PM
​
Leading electrotechnical and engineering services trade body association ECA has welcomed the appointment of Rishi Sunak as the new Prime Minister.

ECA's Director of Workforce and Public Affairs Andrew Eldred said:

"We hope this latest development at number 10 will bring much-needed stability to the economy and provide welcome reassurance to our Members, who desperately need certainty to plan for the future.

"The electrotechnical sector is a crucial part of the construction industry, which forms the backbone of the UK's economy. While ECA broadly supports Mr Sunak's aim to fix the 'profound economic crisis' facing the country, we cannot overstate the importance of keeping electrification and decarbonisation front and centre of those plans.

"We eagerly await next week's fiscal statement and urge Mr Sunak to prioritise green skills, infrastructure and incentives to boost our renewable energy sector, which in turn will help tackle rising energy bills.

"ECA is also keen to see Mr Sunak's new government position the UK at the vanguard of decarbonisation on the world stage at COP27 in Egypt this November."

ECA, which represents and supports nearly 3,000 businesses in the electrotechnical and engineering services industry, actively highlights the sector's vital role in delivering Net Zero.
https://buildingspecifier.com/wp-content/uploads/2022/10/rishi.png
320
800
Lyn
https://buildingspecifier.com/wp-content/uploads/2019/06/building-specifier-logo.png
Lyn
2022-10-24 14:25:13
2022-10-24 16:32:14
Councils Welcome Rishi