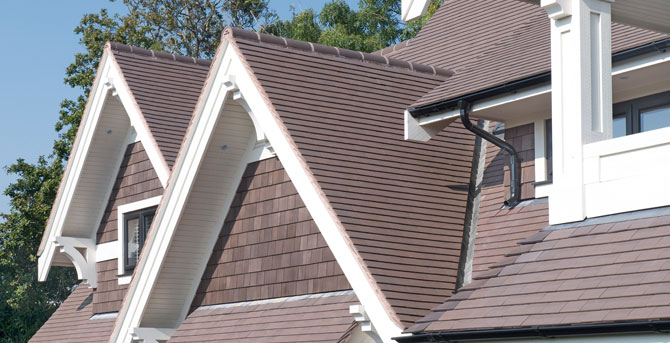 Cedar Tree Construction specifies Acme clay tiles to replicate Canadian style in the UK
An innovative Canadian style home, built as a showcase by Cedar Tree Construction, is using Marley Eternit's Acme Grey Sandfaced clay plain tiles to replicate the style of the cedar shake roofs commonly seen in Vancouver.
Greg Jones, the owner of Cedar Tree Construction, recently relocated back to Swansea in South Wales after spending four years in Canada, building superior homes. Inspired by the beautiful timber home designs, he decided to design and build his own family home as a showcase to demonstrate how the Canadian style of construction could be incorporated into new build and renovation projects in the UK.
Marley Eternit's Acme Grey Sandfaced clay plain tiles in a single camber were specified to replicate the aesthetics of Canadian wooden shake roofs, as well as to complement the cedar shingles that were being used on vertical elements of the build.
Greg Jones explains: "I've worked with Marley Eternit on roofing projects before and they were able to provide me with technical support to help me find the perfect roof tile, not only by providing a range of samples but also by identifying projects that I could visit to see how the tiles would look on a completed roof.
"The Acme Grey Sandfaced plain tile was the closest match on the market and replicates the aesthetics of cedar shake without the high cost. Once I had chosen the tile, Marley Eternit provided estimates and suggested local roofing contractors to carry out the project. The finished roof looks beautiful and showcases how the aesthetic simplicity of timber with a clay roof can create beautiful, distinctive homes in this country."
Acme single camber clay plain tiles enable the creation of contemporary roof designs with the warmth and character of clay. Suitable for use down to roof pitches as low as 30 degrees, Acme clay plain tiles are available in a range of colours and textures. The tiles also have impressive environmental credentials with the ability to achieve an A+ rating in the BRE Green Guide to Specification, maximum credits towards the BES 6001 Responsible Sourcing framework and carbon footprint data at product level.
Sarah Jackson, marketing product manager at Marley Eternit, adds: "The Acme clay plain tiles give the natural beauty that Cedar Tree Construction was seeking to emulate with this project, highlighting how a stunning roof can be achieved at an affordable price. We are delighted that they have chosen to use our tiles on this innovative new build and we look forward to working together again in the future."
Marley Eternit's investment in clay tile manufacturing means that it has the largest clay plain tile production capacity in the UK. This includes the evolution of an unrivalled palette of colours, textures and cambers and a wide range of fittings and roofing accessories.
For further information on our range of products and services just ask ME at www.marleyeternit.co.uk or call ME on 01283 722588. You can also follow ME on Twitter @MarleyEternit. If it matters to you it matters to us, that's why with ME it's all about you.
---
Further reading
https://buildingspecifier.com/wp-content/uploads/2014/10/271014-marleyeternit-web.jpg
343
670
Building Specifier
https://buildingspecifier.com/wp-content/uploads/2019/06/building-specifier-logo.png
Building Specifier
2014-10-27 16:08:30
2014-10-27 16:08:30
Cedar Tree Construction specifies Acme clay tiles to replicate Canadian style in the UK