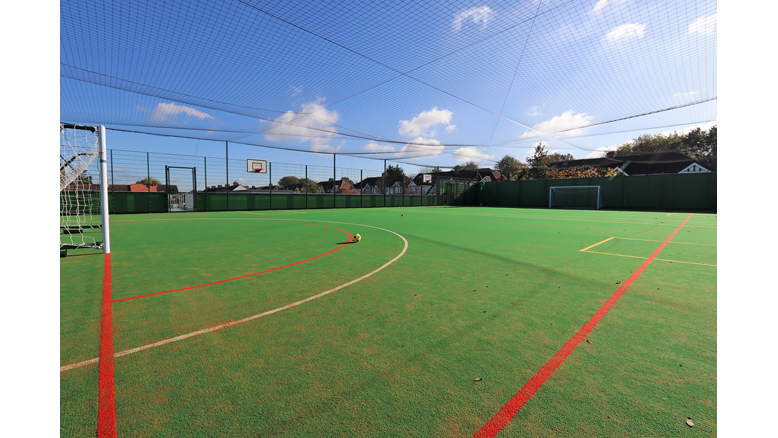 Pupils at a South East London school can now enjoy sport at height thanks to the timely completion of a rooftop 'multi-use games area' or MUGA. Flat roof specialist Byford Roofing tackled the job knowing that the installation was complex and demanding but also that the schedule was tight.
Byford chose BMI Icopal's Parabit Holt Melt Duo that it applied to the concrete deck of the roof. Over that went a layer of inverted insulation and paving slabs ready to receive the MUGA pitch finish. "I chose Parabit because it's a system we know well, we're comfortable laying it and therefore it gave us confidence in achieving the target programme completion date. Not only is it suitable for a zero falls roof, it is also very robust," explained Andrew Byford, Director at Byford Roofing.
He added: "Because of the limited storage space on site, we needed to get the hot melt laid as fast as we could so that we could use the roof area for storage of the other roofing materials. That meant it also had to be tough enough to cope with movement of people and materials around it."
From an installation perspective, the most challenging aspect for Byford Roofing was ensuring that it provided a totally flat surface for the application of the sports surfacing. This meant accuracy in installing the insulation layer and the paving slab ballast. "It had to be completely level to ensure the MUGA could be laid to the correct tolerances," said Byford.
To ensure the contractor met that requirement, Byford chose a paving support system that offered minimal build up with the most support. "After that it was all about making precise cuts, taking time to get it right and achieve that level finish," he continued. "We increased our labour on site to include the highest skilled operatives to make sure we did that."
Most of the 800m2 roof area was applied in an initial period of two-to-three weeks. Beyond that, Byford made return visits to site to work with the sequencing of other works by the main contractor. One of the later tasks was waterproofing with BMI Icopal Elastoflex around the fence posts that had been installed into the waterproofed parapet wall around the roof's perimeter.
Given the demanding nature of the contract, Byford was pleased with the result. "I was happy with the spec we put forward," he said. "It has worked well and it enabled us to complete the project on time and within budget. Working with materials that we trust such as BMI Icopal Parabit Hot Melt Duo, helped us achieve a really satisfying outcome."
https://buildingspecifier.com/wp-content/uploads/2019/04/BI1901SF-BMI-Icopal-Stewart-Fleming-School-2.png
438
778
Product News
https://buildingspecifier.com/wp-content/uploads/2019/06/building-specifier-logo.png
Product News
2019-04-04 21:38:06
2019-04-04 21:38:06
BMI Icopal hot melt provides great result for sports area