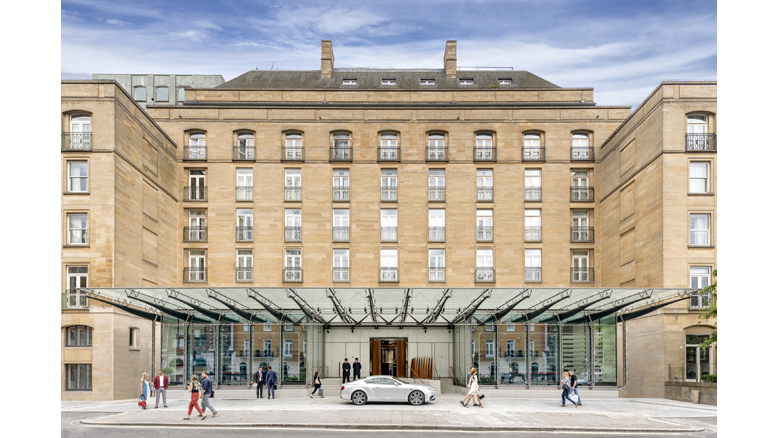 One of London's most prestigious hotels, The Berkeley in Knightsbridge, London, is now protected by a Lux Intelligent emergency lighting test system and MxPro fire panels from Advanced.
With a history dating back to the 1800s, the current 214-bedroom Berkeley Hotel was built in 1972, incorporating elements of the original building, and it has recently been subject to a major refurbishment covering all bedrooms, suites, terraces, the lobby, the restaurant, the iconic Blue Bar and the main entrance.
Lewis Bowden, spokesperson for Surrey-based Alarm Commuication Ltd, the company that specified and installed the system, explained: "Hotels require state of the art emergency lighting systems to safeguard their staff and residents in an emergency situation, helping to facilitate an orderly evacuation and also to guide firefighters coming into the building. As a long-time Advanced partner, we believed that Lux Intelligent, alongside Advanced MxPro fire panels, was the right choice for The Berkeley, offering the stand-out capabilities, features and reliability required of a system of this type.
More than 200 Advanced luminaires have been installed in the historic hotel, on Wilton Place, which is part of the same stable as Claridge's. They are monitored and controlled by a Lux Intelligent panel, connected to the building's fire system. Most of the luminaires are from the Advanced LED-Lite range, which can be recessed into ceilings, offering an aesthically pleasing solution in the public areas of the prestigious building.
Ken Bullock, regional sales manager for Advanced, said: "Our Lux Intelligent system offers many benefits including real peace of mind, the ability to work with almost any light, and cost and admin savings. Alsongside the MxPro multiprotocol fire panels, we're proud to be providing market-leading protection to the staff and residents at the Berkeley."
Lux Intelligent, ensures all emergency lighting is functioning and compliant to BS5266-1. The system can be retrofitted onto existing wiring and luminaires, keeping installation costs to a minimum. It is one of the most flexible systems available with panels supporting 1-4 loops, 249 devices per loop and up to 200 panels in a network. Lux Intelligent is also compatible with most third party lights and luminaires, including LEDs, giving installers and end users unprecedented purchasing freedom.
Lux Intelligent systems can be remotely managed and monitored using web and iOS apps via the Lux Intelligent Cloud. Users can add any site in their portfolio to the cloud service and get live system data from site, right down to device level. Fault, test and maintenance reports can be generated from a whole site right down to individual devices. These can be shared with colleagues or maintenance partners in a click.
The MxPro is the industry's unbeatable multiprotocol fire panel. Built on almost two-decades of market leadership it offers greater freedom to specifiers, end users and installers and includes two panel ranges, the flagship EN54-2, 4 & 13 approved MxPro 5, and the benchmark MxPro 4. Both come in 1-8 loop formats, are compatible with Apollo, Argus, Hochiki and Nittan protocols and can be networked into 200-panel strong systems.
Advanced is a world leader in the development and manufacture of intelligent fire systems. Its legendary performance, quality and ease-of-use sees its products used in prestigious and challenging locations all over the world, from single panel installations to large multi-site networks. Advanced products include complete fire detection systems, multi-protocol fire panels, emergency light testing, extinguishing control and fire paging systems.
More details on Lux Intelligent can be found on the website www.luxintelligent.com.
https://buildingspecifier.com/wp-content/uploads/2018/11/Advanced-web.png
438
778
Product News
https://buildingspecifier.com/wp-content/uploads/2019/06/building-specifier-logo.png
Product News
2018-11-23 16:24:29
2018-11-23 17:30:28
Advanced Emergency Lighting Protects Exclusive Knightsbridge Hotel