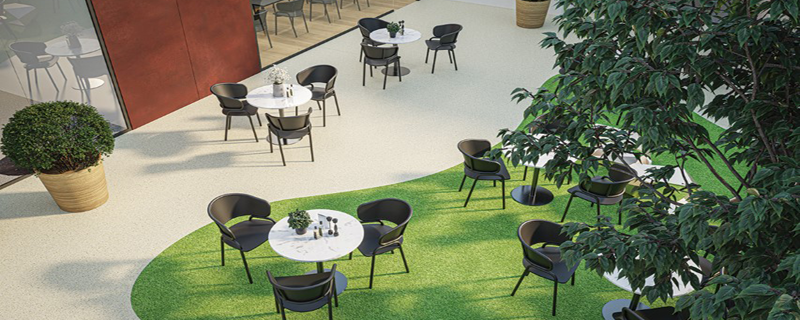 CUSTOMISED FLOORS AND WALLS FROM ALTRO:

Innovative new Altro Custom floors and walls allow you to create unique spaces exactly as you want them – delivering total creative freedom with the quality you expect from Altro. Upload your own designs online via Altro's step-by-step Custom service or choose from a collection of images and patterns – the options are limitless.
Altro Custom launches at the same time as the new Altro Operetta, Altro Orchestra and Altro Serenade ranges, which have natural shades in design options that borrow the visual benefits of carpet, stone and tiles, without the associated hygiene issues. Altro's newest ranges are shaped by customer feedback and inspired by the ethos of the Bauhaus, a stone's throw from the company's German manufacturing site.
Altro Custom floors and walls allow you to design for areas where looks not only count, but can positively affect the views and even the wellbeing of the people who live, work or visit. Imagine classrooms with floors that look like grass or sand; Mexican restaurants with beautiful views of the Mayan Riviera on the walls, or a cutting-edge fashion shop with modern art from floor to ceiling.
As with all innovations from Altro, it's not only about looks: Altro Custom floors and walls have the performance you expect. New Altro Orchestra Custom has 15dB impact sound reduction and comfort underfoot with excellent resistance to residual indentation. Altro Whiterock Digiclad (Custom) is the tried and trusted wall cladding system that you already know. Your vision – a design or photographic image – is turned into reality using UV cured inks onto an Altro Whiterock sheet. Hard-coat technology provides scratch-resistant properties for added surface protection of your chosen print or design.
A new ordering portal guides customers through the process of creating a customer floor or all, one step at a time, with guidance on file requirements, plus previews along the way. If you want the 'wow' factor but don't have your own design, the Altro collection, which will be regularly updated, has multiple choices.
To choose the new Altro Operetta, Altro Orchestra and Altro Serenade looks, Altro worked closely with customers, design specialists and industry leaders to hear latest trends and challenges. This collaborative way of working has resulted in new weave-style and terrazzo patterns. Drawing from water, rocks, foliage and weather, the new palette features greens, blues, greys and earthy tones, each discussed and honed with these customers and partners.
Launched four years ago, Altro Operetta, Altro Orchestra and Altro Serenade have been installed in multiple application areas across the globe. These floors offer different levels of impact sound reduction and comfort underfoot and share a number of shades and designs, so you can have the technical performance you need, where you need it. These options allow a designer to achieve fluidity thorough a building, be it matching or coordinating the look, without compromising on the performance benefits that would create a better experience for the end user.
Over time, trends and needs change and for a flooring range to stay fit for purpose, it needs to change too – particularly a range designed for hospitals, care homes, hospitality, education, offices and social housing – all areas where user wellbeing is key. Product development in recent times has been different to any other year, but video technology came into its own and allowed Altro to collaborate even more widely, working with overseas designers quickly and easily, giving a broader view.
The new Altro Operetta, Altro Orchestra and Altro Serenade ranges include natural shades with design options that borrowed the visual benefits of carpet, stone and tile, without the hygiene issues that these finishes carry. Additions include a weave-style pattern layered with two tonal colours to give the perception of texture and depth, and enabling design flexibility when it comes to contrasting with or matching the surrounding décor.
Another new addition is the terrazzo look, emulating the sophistication of tiles but bringing in more richness and warmth. The beauty of this tonal pattern type is that it can look muted or bold simply by changing the contrast of shades used.
Balancing form and function, Altro also looked closely at the performance of these floors. The answer to 'what do you look for in your flooring?' put the spotlight on looking good for longer and hygiene – something that, in 2020, became top of everyone's mind. Altro looked at making the cleaning process even easier, resulting in a reduced emboss on the three floors to ensure even less dirt build-up.
Altro Operetta is 2mm thick with 4dB sound reduction, Altro Orchestra is 2.85mm thick with 15dB sound reduction and comfort underfoot and Altro Serenade is 3.9mm thick with 19dB acoustic performance and comfort underfoot.

  for the full range of new designs, new shades and inspiration from Altro,
and for information on how to make your custom designs a reality.
https://buildingspecifier.com/wp-content/uploads/2021/04/altro1.png
320
800
Lyn
https://buildingspecifier.com/wp-content/uploads/2019/06/building-specifier-logo.png
Lyn
2021-04-21 13:27:41
2021-04-21 13:27:41
THE ULTIMATE DESIGN FREEDOM