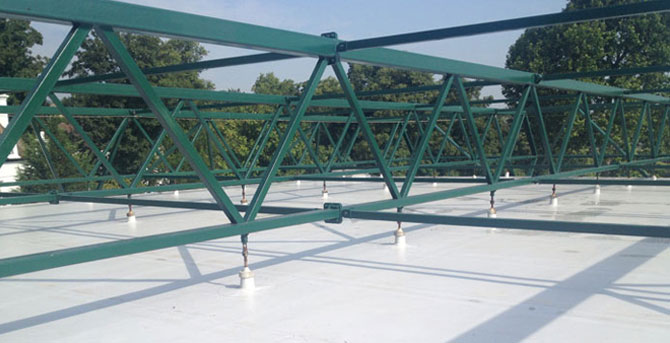 Sika Sarnafil specified for Donyngs leisure centre, Redhill
A Sika Sarnafil waterproofing roofing system has proved to be the perfect fit for The Donyngs Leisure Centre, Redhill following a major £4.1 million upgrade and refurbishment. The re-roofing project was initially to be completed in two phases but the Reigate and Banstead Borough Council was able to draw on more funds allowing both phases to be rolled out as one.
The new roof, which entailed overlaying a Trocal installation from 30 years ago now includes 2,000sq m of Sika Sarnafil waterproofing system. Surrey-based specialist trade contractor, Vision Design Projects successfully tendered for this project, whose operational manager and site staff had previously been involved with the original contractor who installed the old roof.
The isolating layer used was Sika Sarnafil type "T" fleece x 300g / m2 with the waterproofing membrane layer being S327-18EL which was mechanically fixed with IF/IG-C 82x40mm membrane pressure plates and SFS BS Stainless Steel self-drilling fixings. All up stands / outer eaves were then covered with preformed Sarnametal closures.
During the installation of the project, there were no crash decks fitted, just a cover over the swimming pool which was closed for the duration of the activities in this particular area, ensuring safety was first priority.
There was a specific requirement that led to the specification of the Sika Sarnafil system: "I originally identified that the existing pool roof was initially installed using non stainless fittings and my concern was that the fixings may corrode too much making the roof attachment unsafe," Vision Design Projects Mike White comments. "However, it was confirmed the attachment was safe and following pull out tests and post the inspection of opening up samples, it proved no corrosion took place within the roof space."
As the existing roof area was to be retained, the choice of a mechanically fixed Sarnafil system proved to be the best fit; this was preferable over a liquid applied or a bonded system. This choice meant the customer had full assurance that the existing roof would be attached to the existing roof decking by a mechanically fixed Sarnafil system.
The project was successfully completed to the client's satisfaction, on time and budget with the pool re-opening on the agreed date.
"In my opinion this is one of the best re-roofing projects we have undertaken," adds Mike. "Having said that the perimeter closures are fully visible from the ground and these are now new, crisp and clean to the general public below which is very pleasing!"
Further inforamtion
For more information on Sika Sarnafil's products and services, call 01707 394444, email sarnafilroofing@uk.sika.com or visit www.sarnafil.co.uk.
---
Further reading
https://buildingspecifier.com/wp-content/uploads/2014/09/100914-sika-web.jpg
343
670
Building Specifier
https://buildingspecifier.com/wp-content/uploads/2019/06/building-specifier-logo.png
Building Specifier
2014-09-18 13:32:09
2014-09-18 13:32:09
Sika Sarnafil specified for Donyngs leisure centre, Redhill