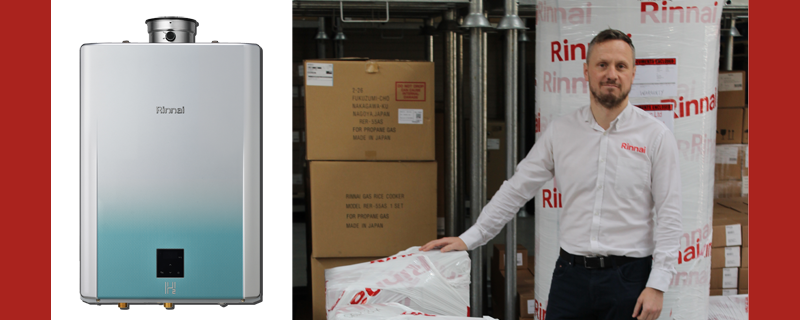 RINNAI CELEBRATE WORLD'S FIRST 100% HYDOGEN FUELLED
CONTINUOUS FLOW HOT WATER HEATER
WITH £1000  RINNAI UNIT GIVE AWAY
PLUS 50 'GOODIE' BAGS  
Marking the global-first achievement of announcing the 100% hydrogen continuous flow hot water heater technology sees Rinnai UK giving away a current 20%-hydrogen blends ready unit worth up to £1000 – plus runners-up prizes of 'goodie' bags featuring a selection of really useful items.
To have a chance of winning the £1000 unit,
The 50 goodie bag will have a T-shirt (available in S, M, L & XL), Rinnai USB Drive, Rinnai Car Freshener, Rinnai Pens and Rinnai Ruler. The competition will end on the July 31st 2022, @ 12:00.
As the world moves towards decarbonisation and cleaner energy sources, Rinnai has designed and created a supremely efficient and high performing continuous flow hot water system fuelled by 100% hydrogen.
Rinnai's 100% hydrogen combustion technology is an integral element of the company's innovative H3 line of products which is specifically designed to offer the UK customer a variety of options when purchasing a specific avenue for domestic hot water and heating.
Rinnai's H3 line focuses on introducing hydrogen, hybrid or heat pump technologies to the UK market and customer. This move will enable decarbonisation and improve domestic energy security as well as produce cleaner air quality and enhance customer convenience.
Rinnai is a world leading manufacturer of hot water heaters and produces over two million units a year. The company operates on each of the five continents and the brand has gained an established reputation for high performance, robust cost efficiency and extended working lives.
Rinnai's commercial and domestic hot water products offer a limitless supply of instantaneous temperature controlled hot water and all units are designed to align with present and future energy sources and accept either natural gas or hydrogen gas blends. Rinnai units are also suited for off-grid customers who require LPG and BioLPG
Rinnai units are UKCA certified, A-rated water efficiency, accessed through multiple fuel options and are available for purchase 24/7, 365 days a year. Any unit can be delivered to any UK site within 24 hours. System design services are available if needed and cost comparison services are accessible to all customers who require further cost detail.
Rinnai's Innovation Manifesto clearly outlines the path to carbon neutrality and maintains a pledge to fully decarbonize company operations by 2050. Rinnai will further support the global clean energy transition by introducing a wide variety of domestic heating options across multiple energy vectors.
Rinnai is committed to decarbonisation. Rinnai's water heating products are all hydrogen-blends ready NOW including the world's first 100% hydrogen powered water heater. Rinnai products also accept BioLPG capable of delivering NetZero carbon emissions. Rinnai offer comprehensive training courses and technical support in all aspects of the water heating industry. More information can be found on Rinnai's website and its "Help Me Choose" webpage.
For more information on the RINNAI product range visit
https://buildingspecifier.com/wp-content/uploads/2022/06/EINNAI1.png
320
800
Lyn
https://buildingspecifier.com/wp-content/uploads/2019/06/building-specifier-logo.png
Lyn
2022-06-22 11:35:56
2022-06-22 11:36:18
RINNAI CELEBRATES A WORLD'S FIRST