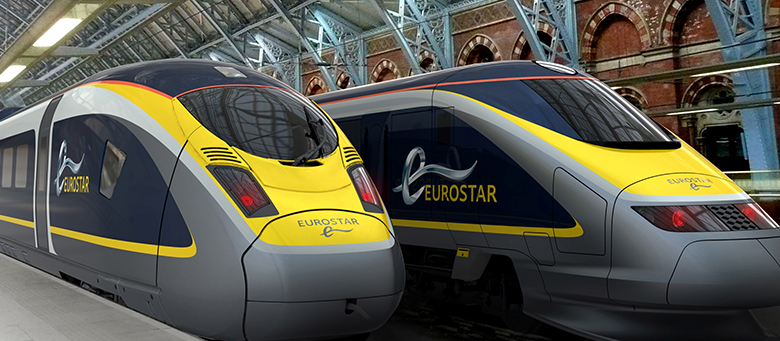 Image above: New e320 train on the left and refurbished e300 train on the right.
Alongside introducing its new Siemens e320 trains, the first of which began operating in commercial service on November 20th 2015, Eurostar is carrying out a complete re-modelling of its original trains. The Class 373s which are being rebranded as e300s have been in service for over21 years since the launch of Eurostar in 1994.The complete and complex refurbishment of the interior and exterior of the trains is being carried out in SNCF's Hellemmes Technicentre in Lille. It covers all mechanical components as well as the design of the train which is being changed to mirror the look and feel of the new e320 trains. created for Eurostar by Italian design house Pininfarina.
The role of Powdertech Corby Ltd
As part of the refurbishment, the interiors were shipped to Powdertech Corby Ltd, in Northamptonshire for stripping and powder coating.
The various components were divided into sets for six different paint colours. Powdertech (Corby) Ltd spent six months dealing with an enormous train set, or parts of one at least. Once coated, the pieces were repackaged and sent back to Lille where the carriages were reassembled. Tagging and labelling of the parts was absolutely critical as there are slight variations between carriages and trains. The engineering company overseeing the reconstruction used a system of unique identification involving a grid of dots, similar to a QR code, imprinted on to the metal. This coding system would ensure that every part went back to the right place in the right carriage on the right train.
Eurostar required a powder coater that could deal with the high demands of the refurbishment programme, not only in terms of high quality powders and coating proficiency but also the operational logistics of dealing with the numerous parts and correct customised powder colours. Following a visit to Powdertech's factory in Corby, Eurostar deemed the company capable of meeting the exacting requirements.
"Cleaning the metal was a challenge," said Powdertech Sales Director, Richard Besant "Together with the old paint, twenty one year's of grease and grime needed removing, not to mention carpet and carpet glue from many of the sections. Powdertech looked into a variety of paint stripping and surface cleaning methods and used, amongst others, blasting with glass beading, orbital sanding and metal polishing."
The six powder colours were custom made for Eurostar by Axalta, for whom Powdertech is an approved applicator. The first refurbished e300 train set, capable of carrying 750 passengers, set forth from London to Brussels in September 2015. Rail travel expert Mark Smith of seat61.com train travellers' website (named after his favourite Eurostar seat) was on board and tweeted "Internally it's unrecognisable – most passengers will think it's a brand new train. Superb job".
"That says it all for us," said Richard Besant. "We are delighted that Powdertech Corby was chosen to make such a big contribution to this exciting makeover project."
For more information please visit www.powdertechcorby.co.uk.
https://buildingspecifier.com/wp-content/uploads/2016/05/Powdertech-BS-ARTICLE.jpg
341
780
Product News
https://buildingspecifier.com/wp-content/uploads/2019/06/building-specifier-logo.png
Product News
2016-05-31 08:54:21
2016-05-31 08:54:21
Powdertech (Corby) Ltd selected to undertake powder coating as part of Eurostar's refurbishment programme