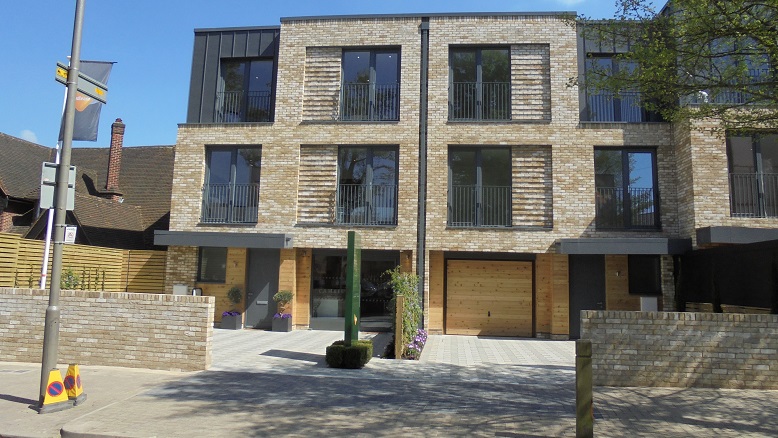 Cambium Gardens, located within walking distance of the All England Tennis Club in Wimbledon, is a new 'urban village' location surrounded by protected parkland. It offers 55 apartments and 55 houses in the leafy setting of Southfields, all carefully designed around a 200 year old oak tree, believed to have been planted by renowned landscape architect Capability Brown.
The project is designed to Code for Sustainable Homes Level 4, the development meets the Lifetime Homes standards with 10% wheelchair accessible and the Mayor's London Housing Design Guide.
About the project
When McLaren Construction (one of the UK's most successful privately owned businesses) involved Howarth Timber Engineered Solutions in this ambitious project, they shared with them a brief to construct very energy efficient buildings with large open rooms but keep the building mass to a minimum for their luxury development apartments and houses.
McLaren Construction teamed up with Howarth Timber Engineering Solutions, via the carpentry installers J A Stott, in order to use their expertise and the MiTek PAMIR software to meet the required specification.
Whilst working on the Cambium Gardens project, it was identified at an early stage that the pre-cast concrete slabs originally specified would not work and an alternative in the form of MiTek's Posi-Joists was tabled. This lightweight solution allowed for the complex Mechanical Ventilation Heat Recovery (MVHR) ductwork & building services to be hidden within the floor joist zone, maximising the living space within the buildings.
Howarth Timber Engineered Solutions, using the latest EC5 compliant MiTek software PAMIR to design not only the Posi-Joist floor joists but also using the 3D capabilities of PAMIR, ensured that the MVHR ductwork was able to traverse the floors of the luxury apartments and houses. HTES worked directly as an integral part of the project design team producing interactive 3-D models and BIM compatible design solutions so that the entire design team could check and sign off the proposals before any work was carried out on site. The MiTek PAMIR software is able to produce not only .dwg drawings, but also .pdf files, CAD drawings as well as Industry Foundation Class (IFC) files – to be imported into Revit. This coordinated approach saved both time and money on the build for the Contractor, Architect, Engineers and M&E designers.
About MiTek
Based in Dudley in the West Midlands, MiTek specialise in the development of software solutions for structural timber engineering and the provision of steel connector products for floor and roofing systems.
From humble beginnings in the mid-1950's, they have gone from strength to strength, growing both organically and through acquisition to become market leaders, operating worldwide by delivering leading software solutions that are second to none. Needless to say, this made them the preferred company of choice for McLaren in this project.
PAMIR
The modern roof designer needs to be able to design a roof very quickly. With several new enquiries arriving on their desk every day, they need software solutions that enable them to design and quote roofs in no time at all. This is one of the many reasons that it was used within the Cambium Gardens project.
Pamir's speed of framing is undoubtedly amazing. In just four clicks of the mouse the user can input this sizeable building, fully framed and ready to price. With Pamir you can quickly edit the building dimensions and watch the roof dynamically re-frame. Whether you are moving walls, adding an attic room, changing the roof pitch, or mirroring roof features, Pamir's powerful dynamic framing allows you to make the change in seconds.
PAMIR combines roof layout, truss engineering and high quality CAD output features, all into one integrated software platform. This means that roof designers have just one environment to learn and are more productive, faster.
Developed by MiTek's large European team of software professionals, PAMIR has been enthusiastically welcomed by the industry and looks set to change roof and floor design as we know it.
In conclusion
Lend Lease, head of residential Richard Cook, said "Cambium will create a vibrant new community in the heart of Southfields and we are delighted to welcome councillor Cook and pupils from Our Lady Queen of Heaven today to mark this significant development milestone: the start of work on site.
"A highly sustainable scheme, Cambium delivers the best of contemporary and eco-friendly living for new and existing residents in the borough of Wandsworth."
Customer:
Lend Lease
Client:
McLaren Construction
Contractor:
McLaren Residential
Architect:
Scott Brownrigg Associates
Structural & Civil Engineers:
Walsh
Posi-Joists Supplier:
Howarth Timber Engineering Solutions
M&E Design & Install:
Emico
Posi-Joist Installer:
J A Stott Joinery
https://buildingspecifier.com/wp-content/uploads/2019/02/DSC00269-copy.jpg
438
778
Joe Bradbury
https://buildingspecifier.com/wp-content/uploads/2019/06/building-specifier-logo.png
Joe Bradbury
2019-02-20 11:14:46
2019-02-20 11:15:09
MVHR-Easy with Posi-Joist