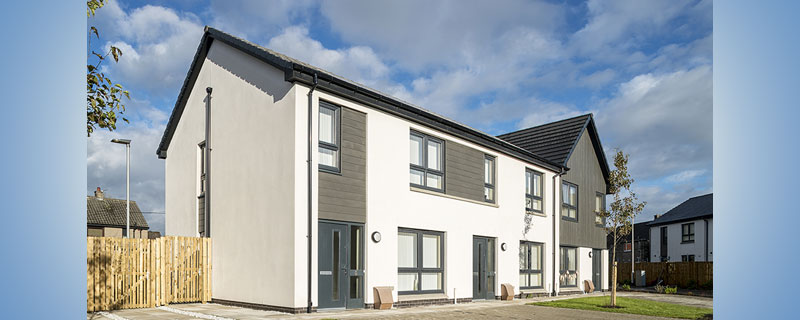 Modern Methods of Construction (MMC) is increasingly recognised as a key solution to solving the UK's housing crisis. Clive Feeney, LHC's Interim Group Director, explains why.
In recent years MMC has carved a place in government policy, with Homes England placing it at the forefront of future housing development.
Dwellings built using these methods have great powers to expedite the levelling up agenda, thanks to speedy construction, use of low carbon building materials and methods, and the energy efficient, cheaper-to-heat homes produced.
The Homes England Affordable Homes programme mandates that 25% of new homes will be constructed using MMC, while the MMC taskforce, set up in early 2021, was allocated £10m funding to accelerate the adoption of offsite methods. This recognition of the value of MMC in homebuilding projects, coupled with investment to accelerate the adoption of offsite methods, is extremely welcome.
Fulfilling demand
Quality housing should be attainable for all UK citizens. But with more than one million people on social housing waiting lists, it is more important than ever to speed up the delivery of new homes to meet this demand.
A major benefit of using MMC is that not only is it possible to create better quality homes for people, but to build them more quickly than would be possible using traditional construction methods.
As is well-known, MMC-built homes are assembled in factory environments, allowing for more rigorous quality control. They are more energy efficient than traditional brick builds, with better insulation and designs created with sustainability and efficiency integral to them. Not only is this good for the environment and vital to helping us all reduce carbon emissions, but it is also significant in managing household utility spending – a crucial element in levelling up and in lessening the blow of rocketing energy bills.
One of the barriers to MMC being used in greater numbers has so far been the inability to scale up developments. But there may now be the catalyst, thanks to increasing routes to procure MMC through construction frameworks, together with July's announcement from 2021-formed trade body, Make Modular, that it could reach 15,000 homes a year by 2024. This is in part due to a £500m investment in factory facilities since 2016 from its members, which include Ilke Homes, TopHat, Laing O'Rourke and Legal & General Modular Homes.
Reluctance to adopt
One of the key stumbling blocks is a hesitancy on the part of the social housing sector to adopt MMC until it becomes a tried and tested approach. Many registered providers would rather let the big commercial players make the mistakes from which smaller providers can learn, but can't afford to make. This is an understandable but unfortunate impediment to progress which will no doubt be overcome in time as evidence of its benefits becomes clearer and it is recognised as a safe, progressive and cost-effective approach to housebuilding.
There is also an educational component to encouraging the adoption of MMC as standard. Requiring a significant shift in the way our homes are designed, procured and delivered, MMC is arguably the single biggest change to housing construction in many decades. The case is clear, but there's much work to do to improve confidence in the sector and begin to see a wholehearted acceptance of MMC as the norm.
A brighter future
LHC has already supported the creation of more than 5,300 MMC-built social homes and with extra support provided by government, it is likely we will see more widespread uptake for the delivery of affordable homes built using MMC in the short term.
What will certainly help to drive the use of MMC is an aggregation of projects from housing providers across the country to allow greater standardisation in the supply chain. This means delivery can be quicker and cheaper, while facilitating the production of buildings of a higher quality.
At LHC we have already started on this journey and are connecting social housing providers across the UK and encouraging a constructive culture of collaboration. We are focused on identifying areas in which providers can aggregate and seek to approach their projects using MMC together, while sharing the burden of risk.
This approach has the potential to help scale the MMC market more quickly, enabling us to help UK residents reap the many benefits that a comfortable, safe home brings. It is also a vital ingredient in supporting the government's levelling up agenda and addressing the inequality that has long surrounded our housing sector.
Article by Clive Feeney,
Interim Group Director at LHC Group
---

https://buildingspecifier.com/wp-content/uploads/2022/08/LHC1.jpg
320
800
Lyn
https://buildingspecifier.com/wp-content/uploads/2019/06/building-specifier-logo.png
Lyn
2022-08-17 12:23:49
2022-08-17 12:23:49
MMC: redressing the balance through construction innovation