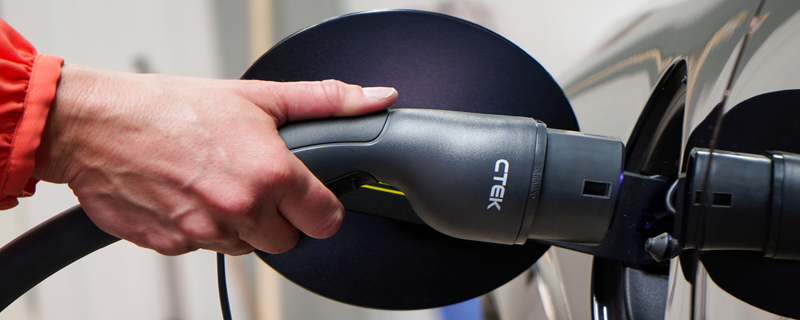 CTEK welcomes ruling on mandatory EV chargers for new builds in England
CTEK, the leading global brand in vehicle charging solutions, has welcomed the recent Government announcement that new homes and buildings in England, and commercial buildings undergoing major renovation, will be required by law to install electric vehicle (EV) charging points from next year.
The move will see up to 145,000 charging points installed across the country each year, as the UK heads along the 'road to zero' and net zero emissions by 2050.
Cecilia Routledge, Global Head of E-Mobility at CTEK, said: "This ruling is an important step in the development of a robust and extensive EV charging network, which is critical to support the growing numbers of EVs on our roads. It will also encourage further EV adoption, as the availability of reliable public and destination chargers is one of the key considerations for motorists thinking about making the switch to electric."
This view is supported by a recent CTEK/YouGov survey1 which revealed that, while three quarters (74%) of UK adults believe that electric motoring is the future of road travel, 78% feel the charging infrastructure is not adequate to support the growth of EVs, compared with 65% in other European countries surveyed. The survey also revealed that, while 68% of UK EV drivers still prefer to charge at home, more than a third (37%) are now using public or destination chargers, 12% are charging at work and 9% at petrol stations.
"Drivers are increasingly mapping out their journeys based on the availability of chargers – not only at their final destination, but also en route," continued Cecilia. "Availability of destination charging will increasingly feature in drivers' choice of hotel, retail and leisure outlet – and this makes the installation of reliable EV chargers a sound business investment. It will also help businesses meet their sustainability targets, thereby supporting a cleaner, greener future for us all."
CTEK's research, drawn from some 8 million EV transactions, reveals that the average length of time on a destination charger is 20 minutes, with drivers tending to top up their batteries rather than charge from empty. At supermarkets and smaller retail outlets, this gives drivers plenty of time to pop in and do a bit of shopping, or get a quick coffee or snack. And at hotels, workplaces and larger shopping centres, where drivers tend to stop for longer or even overnight, drivers can get a fuller charge. This provides a valuable resource for drivers on longer journeys and those with nowhere to install a home charger.
"In most cases, an alternating current (AC) charger will meet drivers' destination charging needs," says Cecilia. "When choosing a charger, reliability is also key consideration, as drivers need to be reassured that they will be able to recharge or top up their vehicles at destinations, before returning home, or for whatever journey they face next."
For destination owners looking for a cost-effective way of installing or expanding an EV charging network, CTEK offers a dual socket Chargestorm Connected 2 AC charger, where two vehicles can plug in and charge at the same time. This can halve the number of physical units that need to be installed, and at considerably reduced cost. This is especially so as the dual socket chargers qualify for two Government Workplace Charging Scheme (WCS) grants. The £350 WCS grants are available 'per socket' and not 'per charger', so you'll get £700 back for every Chargestorm Connected 2 charger installed, up to a maximum of £14,000 for a network of 20 dual socket chargers. These chargers can be wall or pole mounted, inside or out, and CTEK also offers a 4 socket 'back to back' solution, where two dual socket chargers can be sited on a single pole.
"Sustainable transport has gone full circle and the future lies with rechargeable vehicles," said Cecilia. "In the days of horses and carriages, the original sustainable transport, you'd have stopped in town or at an inn to 'refuel' (feed, water and rest) your horses. With an EV, you're still stopping to recharge for your onward journey, it's just a different kind of horsepower!"
For more information, please visit ctek.com/uk/destination-charging
https://buildingspecifier.com/wp-content/uploads/2021/11/BSC3-29.11.21.png
320
800
Lyn
https://buildingspecifier.com/wp-content/uploads/2019/06/building-specifier-logo.png
Lyn
2021-11-29 09:35:39
2021-11-29 09:35:39
Mandatory EV Chargers for new builds