Vortice has launched a new mini heat recovery unit, the Vort Invisible Mini, specifically designed for small apartments, offices and hotel rooms with a surface area of up to 80 square metres.  This is the latest in a whole family of heat recovery units offered by Vortice which make the best use of energy efficient technology and also allow filtration of the air to ensure excellent indoor air quality.
Heat recovery technology ensures that fully filtered fresh air is supplied to rooms, it removes stale air and recovers the energy (heat) in the removed air through a high efficiency exchanger, transferring it to the introduced air.  By ventilating buildings correctly, we protect our health and reduce the risk of transferring a virus and pollutants transmitted by air.
The Vort Invisible Mini is easy to install in a false ceiling, has easily accessible wiring and is simple to set up at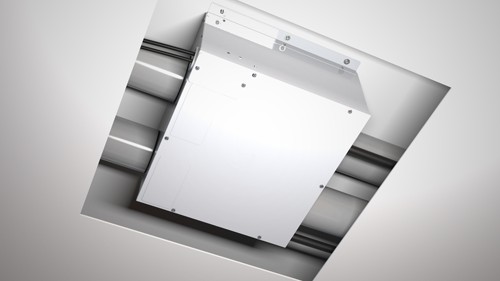 installation, including settings for fan speed, relative humidity, time interval of sleep mode and activation temperatures of free-cooling mode.  Maintenance is easy too, with magnetic covers offering access to the G3 filters and a remote control panel display signalling when cleaning and maintenance is necessary.
Marketing Manager Jennifer Quinn said: "The Vort Invisible Mini is ideally suited for student accommodation, studio flats and small offices with false ceilings.  It is energy saving and easy to use and reduces indoor pollutants, high humidity levels and mould."
For further information about the Vort Invisible Mini and all other heat recovery systems from Vortice visit www.vortice.ltd.uk
https://buildingspecifier.com/wp-content/uploads/2021/04/VORTICE1.png
320
800
Lyn
https://buildingspecifier.com/wp-content/uploads/2019/06/building-specifier-logo.png
Lyn
2021-04-14 06:57:04
2021-04-14 07:12:33
INVISIBLE MINI HEAT RECOVERY UNIT FOR FALSE CEILING INSTALLATION