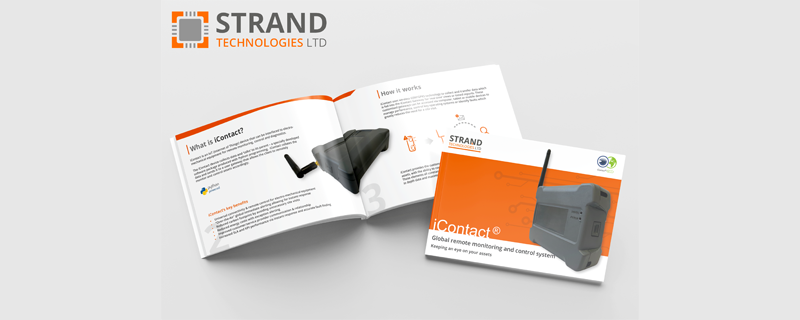 A brochure to explain the diversity of a product with massive capabilities has been published by Strand Technologies.
iContact uses GSM/GPRS to enable real-time reporting across a range of security critical applications and access control systems for global remote monitoring, alerting, diagnostics and remote control.
It can be fitted to a range of electro-mechanical equipment – making it a versatile option. It works by collecting data which 'talks' to its parent – a specially developed software package produced with Python programming.  This is accessed via a user gateway that allows the client to remotely manage the assets.
The brochure highlights how the system works, where it can be used and provides technical details for specifiers and technologists. It can be downloaded via www.strandtech.co.uk
iContact has a proven track record of being used in many types of environs including commercial, retail, manufacturing and warehousing premises – providing facilities managers with the tools for rapid diagnostics, performance reporting and essential remote locking/unlocking.
It is ideal for schools, universities, hospitals, care homes and other buildings accessed by the public to deliver safeguarding requirements, improved accessibility and alert systems linked to entrances, gates and barriers.
iContact can be used for access control in facilities which operate entry tags, PIN numbers and card management – providing access history and alerts for unauthorised access attempts and to manage systems within specialised markets.
Simon Bowden, Sales and Business Development Director for Strand Technologies said that iContact was a small product with big capabilities.
"If you are managing buildings remotely or oversee a large estate with multiple assets, iContact can help you do so remotely with improved connectivity," he said.
"It provides a cost-effective solution that is compatible with wider building management control but can also be used as a stand-alone system – making it ideal for both new and retrofit developments.
"In minimising site attendance and emergency visits from service engineers, it can help reduce your carbon footprint and reduce energy costs by ensuring that your assets are working to their optimum," added Simon.
iContact has been fitted to a diverse range of equipment including fire and smoke protection, temperature monitoring equipment, road safety signs and lights, threat protection and alert systems and specialist aquatics operations.
For more information contact: info@strandtech.co.uk
or visit: www.strandtech.co.uk/icontact
Follow Strand Technologies on Twitter and LinkedIn for the latest news and info
https://buildingspecifier.com/wp-content/uploads/2021/06/strand-1.png
320
800
Lyn
https://buildingspecifier.com/wp-content/uploads/2019/06/building-specifier-logo.png
Lyn
2021-06-26 14:49:27
2021-06-26 14:49:27
iContact is Simply Diverse