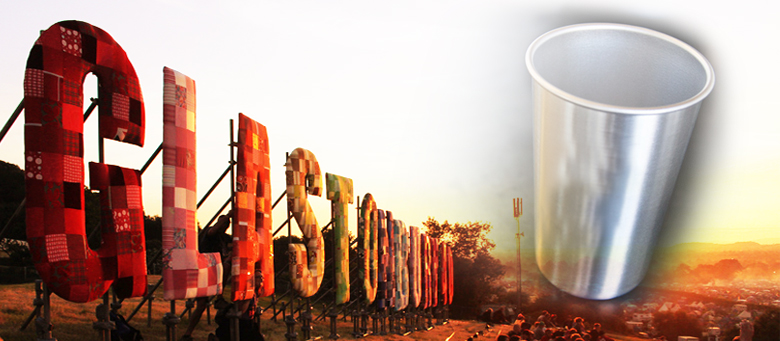 Glastonbury Festival organisers have announced that they are launching a sustainable, recycled stainless steel pint cup for use on a major scale at this year's event.
The website states that over 200,000 cups will be in circulation in ten of the main bars onsite, with festival goers paying a £5 deposit when they buy their first pint.
Green Initiatives and Sustainability Coordinator, Lucy Smith says "Everybody said we couldn't do it with something on the scale of Glastonbury and it has been a major fight to get this scheme off the ground, dealing with everything from weights and measures to crushability tests.
"But for us, it's part of the reusable revolution. It's very similar to paying 5p for a carrier bag. We think people will take to it. The pints are made by APS in Birmingham, and it was a significant part of the project to have them made with British stainless steel."
Waste is always a big issue for music festivals, and a solution to the sheer amount of spent beer cups has been long sought after. These stainless pint cups are the truly a first of their kind and are made of food grade 80 per cent recycled British stainless steel. In order to ensure hygiene, when music-lovers get their next round in, they can simply swap their used cup for a fresh one.
Lucy continues: "Founder of the festival, Michael Eavis wanted to support the British steel industry, and what we got was much higher, more consistent quality. The difference is clear in the quality of the steel. APS made the cups on a press previously used to make Land Rover parts."
"I'm told the cup initiative is a bit of a revolution. But for me, the single most important thing was being able to source British stainless steel for the cups from the place where it was invented – Sheffield, and then to take it on to the home of manufacture – Birmingham." – Michael Eavis
"Week after week, there's a story in the national press about jobs in the UK steel industry being put at risk. There's seemingly no end to the negative slide of this critical industry, and if the jobs, skills and infrastructure are lost they won't be replaced."
"We've worked on this project over the last three years, which will hopefully encourage other UK businesses to think about how they can support our steel industry during these very challenging times."
https://buildingspecifier.com/wp-content/uploads/2016/04/Glasto-BS-ARTICLE.jpg
341
780
Building Specifier
https://buildingspecifier.com/wp-content/uploads/2019/06/building-specifier-logo.png
Building Specifier
2016-04-20 16:24:41
2016-04-20 16:24:55
Glastonbury festival supports British steel with reusable steel pint cups