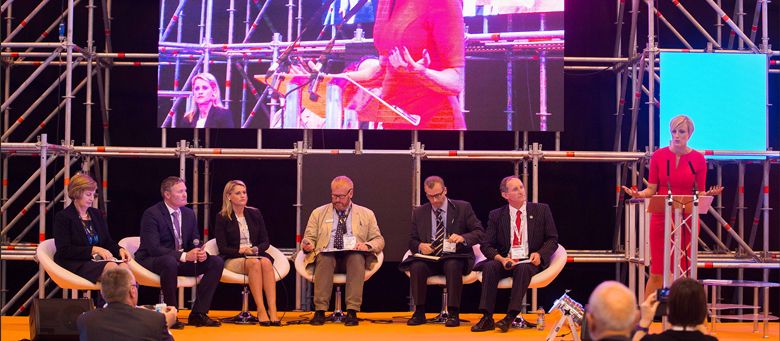 The Build Show, part of the UK's largest construction trade event UK Construction Week, has released the details of its seminar programme taking place in The Home Building Theatre.
Day one focuses on challenges and opportunities for house builders covering funding, exciting new and innovative approaches such as 3D printing and offsite construction with insight from the likes of John O'Brien, Associate Director – Construction Innovation at BRE.
The spotlight in the afternoon will be on energy and sustainability. THE BUILDING ENERGY PERFORMANCE GAP will look at closing the gap between design and built performance with confirmed speakers to include Anthony Briden, Senior Energy Consultant at PRP Architects; Alasdair Donn, Principal Energy Solutions Engineer at Willmott Dixon; Andrew Dainty, Professor of Construction Sociology at Loughborough University; Douglas Drewniak, BEPIT Research Engineer at Bioregional, Steve Hornblow, Project Director for NW Bicester, A2Dominion Housing Group and many more.
Day two kicks off with a seminar about OPPORTUNITIES IN THE CUSTOM AND SELF-BUILD MARKET which will showcase a session by Philip Singleton, MD of Graven Hill Village Development Company, about Graven Hill Village – the UK's largest self-build scheme.
Looking ahead the afternoon will ask important questions about FUTURE-PROOF HOUSING DESIGN AND MATERIALS with experts from the industry exploring the changing role of architects in housing design and creating liveable homes and communities for the long term. Does good housing design have to cost more? How can we plan for spaces that people want to live in? And what will the house of the future look like? Speakers include Nicolas Khalili RIBA ARB PM, Managing Director at HWO Architects and Gwyn Roberts, New Homes and Communities Lead at BRE.
The final day of seminars will take a closer look at the topic of FUTURE-PROOFING HOUSE BUILDING. Feeding into this session, the CONSTRUCTION METHODS TO SAFEGUARD THE FUTURE OF THE UK HOUSING MARKET segment will explore the goals and aspirations for the future of house building with its differing construction methods and their impact on the housing requirements. BIM4 Housing Chairman, Patrick Wilson explains the benefits of structured data and how this can determine build methods and outcomes. Wienerberger will lead discussions on HOW THE HOUSE BUILDER BENEFITS FROM STRUCTURED DATA in the build process, including internal processes, asset management and developed metrics. Nick Tune, CEO of coBuilder UK will also comment on WHAT IS DIGITAL DATA, WHY WE NEED IT, HOW TO COLLECT AND DISTRIBUTE IT TO OUR ADVANTAGE.
Nathan Garnett, Event Director for the Build Show, commented: "Central to this year's show, the seminar schedule has been a real focus of our organisation – ensuring we cover the most pressing topics to offer the most value to our visitors. We really believe that the show offers a powerful opportunity for the industry to propel itself forwards into a stronger, more united and prosperous future. Indeed, as the first major event following the decision to leave the EU, the Build Show will play a significant role in shaping strategy and settling nerves within the sector."
Taking place at the Birmingham NEC from 18 – 20 October, the Build Show sits alongside Timber Expo, Civils Expo, the Surface and Materials Show, Energy 2016, Plant & Machinery Live, HVAC 2016, Smart Buildings 2016 and Grand Designs Live as part of UK Construction Week.
For more information or to get your free ticket to attend the Build Show, please visit www.buildshow.co.uk or follow @BuildShow on Twitter.
https://buildingspecifier.com/wp-content/uploads/2016/09/Build-Show-BS-ARTICLE.jpg
341
780
Product News
https://buildingspecifier.com/wp-content/uploads/2019/06/building-specifier-logo.png
Product News
2016-09-15 10:58:52
2016-09-15 10:58:52
Focus on sustainability, energy and the future of housing at the Build Show