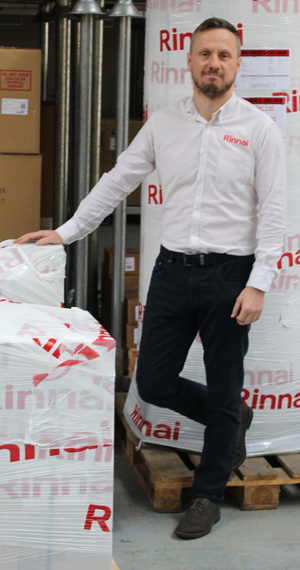 Chris Goggin looks at the expansion of the global heat pump market as they will play a pivotal part in UK, European and international decarbonisation plans. Rinnai observes the market conditions that will likely see heat pump technology become standard household appliances on an international scale.
Heat pumps will make a significant contribution towards global decarbonisation aims, of that there appears to be little doubt. The international heat pump market is projected to substantially expand as fossil fuels are phased out in favour of clean carbon neutral energies. Heat pumps are becoming seen internationally as trusted tools of decarbonisation with major economies across the globe adopting them as a preferred method of heating and hot water delivery to domestic and commercial sites.
Heat pumps will certainly be a major contributor towards the introduction of clean renewable energy across EU member states. The EU aims to increase the number of heat pumps installed in member countries with its REPowerEU plan. The plan covers diversifying energy supplies, producing clean energy and reducing overall energy consumption.
Current estimations on heat pumps that have been installed across Europe are around 20 million. 3 million of these heat pumps were purchased during 2022. European heat pump sales throughout 2022 resulted in a 39% increase, up 5% when compared to 2021.
France bought and installed more heat pumps than any other EU nation in 2022 when compared to 21 other European heat pump markets. 621,776 individual heat pump units were sold and installed in France throughout 2022. UK statistics show that the UK had sales of 55,168.
Scandinavian and Baltic EU states maintain the highest levels of domestic heat pump adoption – Norway has 60%, Sweden 43%, Finland 41%, and Estonia 34%. Norway has 1.4 million actively operational heat pumps that provide essential heat and hot water to domestic properties.
Heat pumps provide heating and hot water towards 16% of all domestic and commercial properties across Europe and there are further plans to install an added 60 million more by 2030. Heat pump technology is a certified method of clean energy dispersal and international market projections expect further expansions in size and scope. The current European heat pump market is healthy whilst the future heat pump market will continue to grow.
America is another area of importance regarding domestic and commercial property heat pump adoption. More heat pumps were sold and installed than gas furnaces during 2022. Heat pump sales amounted to 4.3 million whilst sales of gas fuelled heating and hot water systems were 3.9 million.
The residential heat pump market in the US was valued at $13 billion in 2020 and is expected to grow at a CAGR (Compound Annual Growth Rate) of 5% between 2021 – 2030.
American heat pump adoption has resulted in an 11% increase in sales of air sourced heat pumps during 2022. Heat pump sales throughout US territory have steadily increased for 20 years. In 2001, 1.44 million air source heat pumps were sold. In 2021, customers purchased 3.92 million air source heat pumps.
As in Europe, the American heat pump market performs strongly and is expected to grow over the coming years. In 2022 the US was the most dynamic heat pump market in the world – with a 15% increase in recorded sales.
Another significant player in the international heat pump market is China, which manufactures 40% of the world's heat pumps. China is the globes largest producer of heat pumps with many of the finished units being exported to Europe.
Heat pumps are a recognised technology throughout all Chinese regions and play a key part in heating and hot water delivery as well as air conditioning. 58.4 million heat pumps have been installed in China as of 2020 – 33% of the world's installed heat pumps. China is the biggest market for air source heat pumps with sales increasing by 7% in 2021 and 12.5 million units in operation.
In 2022 China recorded a 20% increase in air to water heat pumps compared to sales statistics in 2021. Over 1 million air source heat pumps were sold in China in 2022. China is currently the third most dynamic international heat pump market with a recorded annual 13% increase in national sales.
According to the website Global Heat Pump Statistics (April 2023) "Leading manufacturers are seeing promising signs that today's momentum and policy support could put the industry on a trajectory that triples sales by 2030 – and they have accordingly announced plans to invest more than $4 billion in expanding heat pump production and related efforts, mostly in Europe."
Heat pump sales increased by more than 11% globally in 2022. Widespread UK heat pump adoption is yet to be fully announced through sales and industry growth statistics. However, it can be observed that the heat pump industry and market is expanding exponentially, with the UK expected to also increase the size and levels of activity within the domestic heat pump market. Doing so will ensure achievable domestic and commercial property decarbonisation.
---
---
---
RINNAI'S H3 DECARBONISATION OFFERS PATHWAYS
& CUSTOMER COST REDUCTIONS FOR
COMMERCIAL, DOMESTIC AND OFF-GRID HEATING &
HOT WATER DELIVERY
Rinnai's H3 range of decarbonising products include hydrogen / BioLPG ready technology, hybrid systems, and a wide range of LOW GWP heat pumps and solar thermal. Also, within Rinnai's H3 range is Infinity hydrogen blend ready and BioLPG ready continuous flow water heaters which are stacked with a multitude of features that ensure long life, robust & durable use, customer satisfaction and product efficiency.
Rinnai's range of decarbonising products – H1/H2/H3 – consists of heat pump, solar, hydrogen in any configuration, hybrid formats for either residential or commercial applications. Rinnai's H3 range of products offer contractors, consultants and end users a range of efficient, robust and affordable decarbonising appliances which create practical, economic and technically feasible solutions. The range covers all forms of fuels and appliances currently available – electric, gas, hydrogen, BioLPG, rDME solar thermal, low GWP heat pumps and electric water heaters.
Rinnai H1 continuous water heaters and boilers offer practical and economic decarbonization delivered through technological innovation in hydrogen and renewable liquid gas ready technology.
Rinnai's H1 option is centred on hydrogen, as it is anticipated that clean hydrogen fuels will become internationally energy market-relevant in the future; Rinnai water heaters are hydrogen 20% blends ready and include the world's first 100% hydrogen-ready hot water heating technology.
Rinnai H2 – Decarbonization simplified with renewable gas-ready units, Solar Thermal and Heat Pump Hybrids. Rinnai H2 is designed to introduce a practical and low-cost option which may suit specific sites and enable multiple decarbonisation pathways with the addition of high performance.
Rinnai H3 – Low-GWP heat pump technology made easy – Rinnai heat pumps are available for domestic and commercial usage with an extensive range of 4 – 115kW appliances.
Rinnai's H3 heat pumps utilise R32 refrigerant and have favourable COP and SCOP.
Rinnai is a world leading manufacturer of hot water heaters and produces over two million units a year, operating on each of the five continents. The brand has gained an established reputation for producing products that offer high performance, cost efficiency and extended working lives.
Rinnai's commercial and domestic continuous flow water heaters offer a limitless supply of instantaneous temperature controlled hot water and all units are designed to align with present and future energy sources. Rinnai condensing water heaters accept either existing fuel or hydrogen gas blends. Rinnai units are also suited for off-grid customers who require LPG and BioLPG or rDME.
Rinnai products are i2HY20 certified, A-rated water efficiency, accessed through multiple fuel options and are available for purchase 24/7, 365 days a year. Any unit can be delivered to any UK site within 24 hours. Rinnai offer carbon and cost comparison services that will calculate financial and carbon savings made when investing in a Rinnai system. Rinnai also provide a system design service that will suggest an appropriate system for the property in question. Rinnai offer comprehensive training courses and technical support in all aspects of the water heating industry including detailed CPD's. More information can be found on Rinnai's website and its "Help Me Choose" webpage.
https://buildingspecifier.com/wp-content/uploads/2023/10/RINNAI-ESHOT-11.10.23.gif
320
800
Lyn
https://buildingspecifier.com/wp-content/uploads/2019/06/building-specifier-logo.png
Lyn
2023-10-10 16:14:27
2023-10-10 16:14:27
EUROPEAN & GLOBAL MARKET FOR HEAT PUMPS LOOKS FOR WIDE EXPANSION